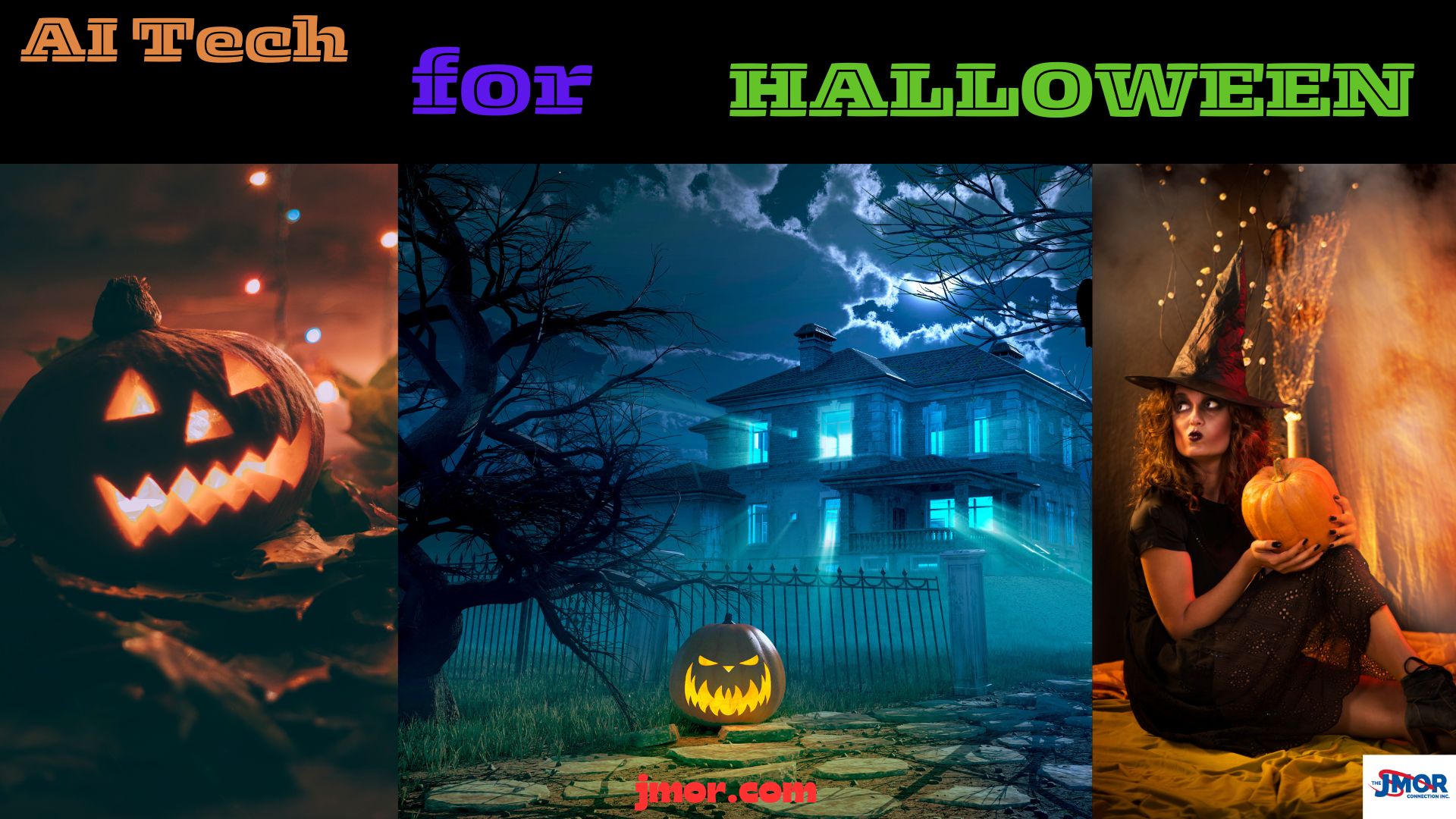 Intro and Origin of Halloween
Did you know that Halloween started over 2,000 years ago when the Celtic people in Europe first celebrated at the end of their harvest? Halloween commencement takes place on Oct 31 because it is the eve before All Souls Day, when Christians remember and honor those that have passed. Regardless of age, deciding what you wear for Halloween is fun and sometimes challenging. Through this article, I will share how technology may improve your upcoming Halloween by making it entertaining and perhaps a little scarier.
Apps that will Scare you Out of your Socks
Apps are not just for playing games and getting directions and information but also for AR (Augmented Reality), where virtual Halloween decorations, characters, and interactive experiences can be brought to life when viewed through a smartphone Or AR Glasses. AR adds superimposed digital elements over your live world with some interaction. VR (Virtual Reality) doesn't use the natural world but uses a fully synthesized world. VR adds your live world to the experience to make it appear and feel natural. Many can be found on the Apple and Google Play stores, ranging from adventure, sports, and role-play stories, all 3D.
Use LED and glow-in-the-dark elements to Surprise People.
From colored LED lights, pre-lit broomsticks, pumpkin trail lights, Halloween light-up wreaths, and melting candle clusters to creepy ghosts and goblins, the fun begins when they get remotely controlled from an app on your smartphone. Traditional colors for Halloween are orange, red, and some blotches of, green and purple. A great way to start is with string lights, adding neon signs, and activating them with motion sensors. Don't forget to install glow-in-the-dark elements on your stairs, railings, and prized spookiest decorations. My favorite is making scary window lights to captivate and scare your visitors.
Why not add security and convenience for you and trick-or-treaters this Halloween?
Install wireless doorbells, locks, and cameras, as they will give you peace of mind and make it easy for your holiday and general visitors to let you know when they have arrived. Did you know that many wireless doorbells have cameras as a standard feature and will send a picture of who is at the door to your phone when they ring? Plus, it can even be set to show you anyone who is approaching your door when you enable the motion activation feature. If you want to make your property and home more fun and scarier, home automation is just the ticket to scare everyone visiting your home.
Use a 3D printer to create scary props this Halloween.
If you don't have a 3D Printer, now is the perfect time to invest in one so you can make a variety of cool, scary props to add to your Halloween Decorations. Using software like the free new and improved blender and the free slicing software that comes with your printer, you will be well on your way to creating some amazing things. The beauty of 3D Printing is once you get something you are happy with, scale it in a few clicks and print.
Animatronics and Robotics will Scare your Guests
Animatronics is often used on movie sets to create life-like animals when it is too costly. Why not purchase one and place it in the center of your yard? I bought a skull animatronic door decoration that has a moving jaw and moving eyes and also randomly says three scary phrases each time it hears a sound nearby. One of which is "You must be out of your Gord if you think you are getting candy here" and then a deep evil laugh.
Image Projection has been used in Haunted Mansions to Scare People for Years
Creating your projection mapping is straightforward; start by getting a piece of glass and position it at the correct angle to appear transparent and reflect a side room to the viewer or audience; thus, the result will be the appearance of a transparent ghost image on the main stage. You can also pick up a Wi-Fi projection system capable of receiving images and video in 4K from your computer for under $200.00. If that seems too much work, there are holiday projectors under $50.00, in which you can project various preset holiday scenes, including Halloween. Make sure you use items with the thinnest, most delicate fibers, as the light will penetrate further into them and appear the scariest.
Eerie Sounds at Halloween bring out fear
Playing some pre-recorded eerie sounds is excellent, but how about making some Halloween Sounds? One of my favorites is taking an empty paint can after it's been washed out, putting a spring through the top, and pulling that for a scary sound. Take a plastic cup, put the string through it help with a paper clip and slide your fingers up and down it for another eerie sound. Snapping carrots or celery will sound like bones breaking; pop a few balloons and slam some doors for great starting sounds.
Are you handy; then make your own DIY Electronics Show
If you like to play with lights, motors, speakers, or fog machines, why not create your show powered by a Raspberry Pi or other electronic animation gadgets? Scare your neighbors and visitors this Halloween by bringing homegrown animation and story ideas to life. Add AI and machine language to your creation to captivate ever more attention of trick-or-treaters.
Try a Halloween chatbot to welcome your website visitors
Catch your clients and perspectives' interest by launching a Halloween chatbot on your website this season. Chatbots will get conversations started and promptly respond to your buyers' quick questions and concerns. Make your site fun to visit and something everyone will be talking about well after Halloween.
Wondering what to wear this Halloween?
Halloween is not far off, and you don't feel like trick-or-treating simply because you don't know what to wear. Shopping for a costume at a Halloween store is so last year, and you want to be something fun and get peoples' attention. Try using an AI Costume generator to give you a unique set of ideas on what to be this Halloween, and the party or neighborhood will never be the same.
Halloween goes quickly, so enjoy it.
Halloween may seem like it goes so quickly, but choose to plan and embrace the day when it arrives. This Halloween can be the best, from getting in the spirit with AR/VR movies and games to intelligent lighting and home automation. Enjoy the art of making props and gadgets to scare your arriving visitors. Explore some of the suggestions in this article on making this your most adventurous, scary, and fun Halloween ever. Lastly, take the time to find or create a costume where you can be someone or something you will enjoy.
Check out all my other fascinating content at