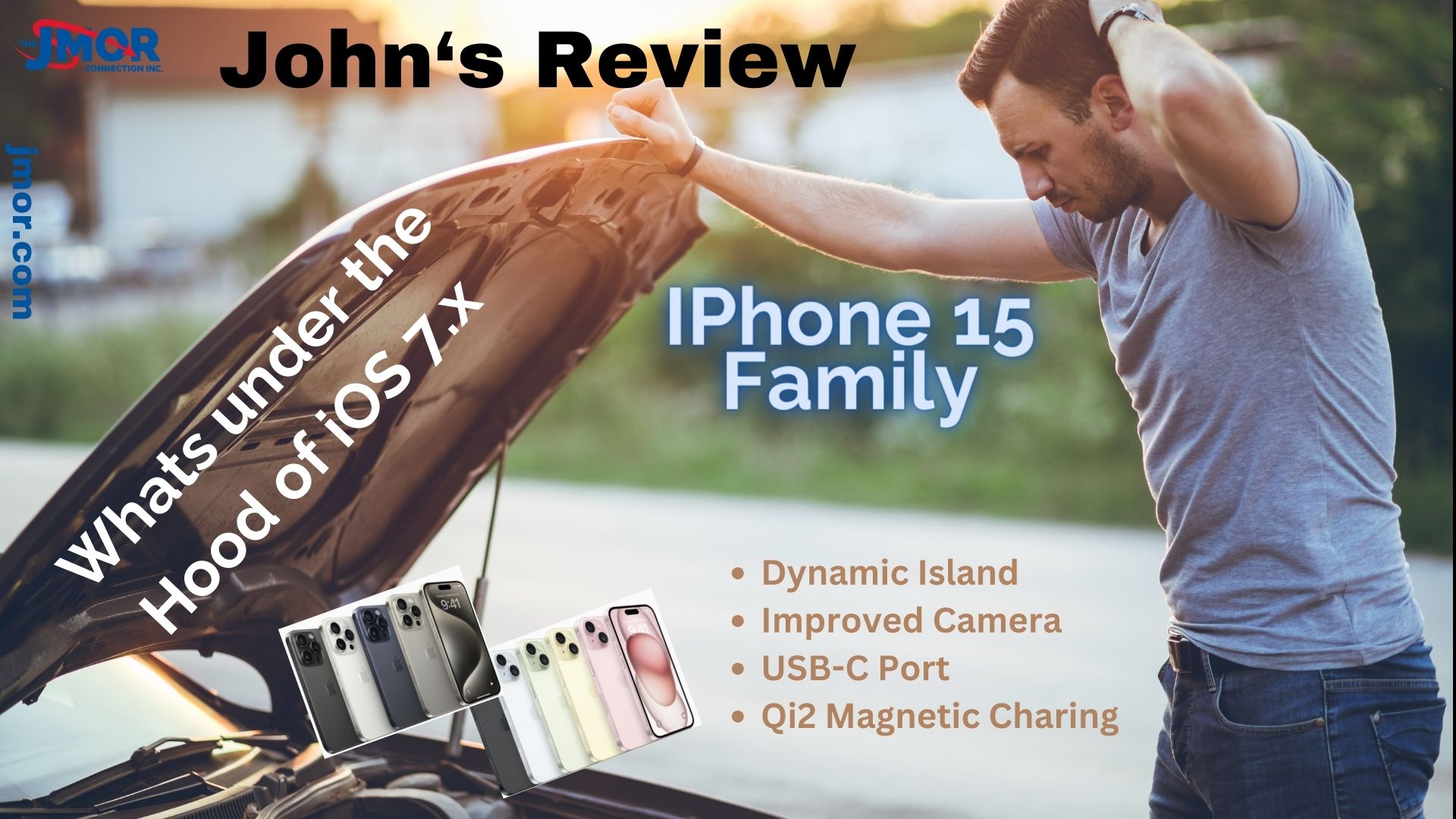 My iPhone 15 Pro Max Experience
The box arrived on the release date, Friday, Sep 22, 2023, since I ordered it as soon as the pre-order website opened with Verizon Wireless. I opened the shipping box early that afternoon and showed the sealed iPhone Pro Max Box on The JMOR Tech Talk Show. I was enthusiastic to open that box and get my hands on my new iPhone 15 Pro Max that I had been waiting for over a week. Through this article, I will share my experience from the moment I started to transfer my data from my old phone and my thoughts about the new iOS 7.01.
After unveiling the phone on my Live Show, The JMOR Tech Talk Show, I first upgraded the iOS on my new phone to the latest 7.0.2. As a precaution, I always back up my old phone to my computer before any upgrade. I turned on my iPhone 15 Pro Max for the first time, selected English, chose my country, and clicked continue on the appearance change screen. Next, the device started looking for my old machine, which I was close to. To accomplish this, one needed to ensure the old phone's screen was in the new phone's camera view. Within a second, the old telephone displayed a screen asking me to accept and click continue and enter the old phone's password on the new phone.
After being prompted and I joined a Wi-Fi network, the phone attempted to activate its eSIM (electronic subscriber identity module), and it reminded me to start the phone. Then, as prompted, I entered my phone number and the last four digits of the company's Tax ID number. A Screen then popped up saying "Setting Up Cellular," when it finished, the words changed to "Cellular Setup Complete," which took about thirty seconds. Apple then asked me to review the Data & Privacy and to click continue or learn more.
The phone is not set up yet, but we are getting there. Apple showed a screen indicating I may set this phone up for myself or a child in your family, and there were two options to click on: Setup for Myself or Setup for a Child in my Family. A parent or legal guardian may create child accounts for children 12 or under. I selected the option Setup for Myself and clicked the Continue button.
One is then prompted to select an option to Set Up Face ID either Now or Later; I set up my FACE ID, which only took a few head circles. On prior phones, the head had to be rotated around several times to get the circle indicator to move, but on this phone, it was quick. Apple then asked me to enter a new password two times so it could confirm it was entered correctly.
The next step is critical: one must update their iPhone to iOS 17.02 for the iPhone 15 Family if you will be transferring your apps and data from another phone. Then, if you can update to 17.02, do that. If not, then choose no data transfer. If you attempt a phone-to-phone transfer and it freezes, you must put your device in recovery mode. To do this, connect the cable from your phone to your computer, press and release the volume up button, then another quick press on the volume down button. Press the right-side button until the Apple Logo is replaced with a picture of a computer and a cable. Find your iPhone in iTunes and choose restore, and it will download the latest iOS and install it on your phone. Note that if your iPhone should restart before the download is completed, you must repeat this process from the beginning.
If you remember not attempting phone-to-phone transfer before 17.02 iOS was installed, you can proceed to Enter your Apple ID and password, review Apple's terms and conditions, and select agree. Apple will ask you to verify the login on the new device from your old device to ensure it is you.
Then select a choice to improve the Siri & Dictation, and review the S.O.S Prompt. The S.O.S Prompt section allows you to enable S.O.S calling by pressing and holding the side button and the volume button, calling when side buttons five times, auto call, or setting up emergency numbers. Later, this can easily be configured by visiting the settings, emergency S.O.S. section in the future.
Now swipe up and place your old phone in the camera view of the new phone, and it should prompt you on your old phone to enter the password; on the data transfer screen, choose phone-phone and wait for the transfer to complete.
My transfer took less than 38 minutes, and I had nearly 98GB of Data. And I was pleasantly surprised as all my apps, ringtones, and screen backgrounds came over. This was my first iPhone ever, where any transfer restored 100% of everything.
A few things didn't transfer, and I will share what they were. First, I had to recover my Microsoft Two Factor Authentication account on my new phone, which took less than five seconds once I logged in. Several of my secure bank apps that generate their two-factor codes must be re-authenticated. Also, my Slack app had to be logged into all the accounts I use each day.
Now that I have been using my phone for an entire week, I have had plenty of time to give you feedback about the phone. For starters, I love the action button on the side of the phone, which by default is mapped to silence the ringer. After transferring your data, you will find that the new phone still has the old one's name. To change this, go to settings, name, enter the new name, and click done.
Also, I never realized how happy I would be with the color and weight of the space alloy metal titanium. The USB-C is a game changer, and I no longer have to be burdened by wondering if I will have a suitable cable to charge it. My calls were usually okay with the occasional drop here and there, but with this device, not one falls in a week; maybe it is due to the highly engineered Snapdragon x70 modem inside. I never knew how much I would appreciate the dynamic island feature on this phone. Whether I'm on a call, stopwatch, timer, or AirDrop sending status, it is a feature that saves so much time going in and out of apps. The camera is friendly, even with the new zoom. I would say the picture quality is better, but it is not the cinematic camera they make it out to be. I will still use my professional Cannons and Nikon for professional photos and video capturing.
Let me know your thoughts about your iPhone 15 Pro Max and any questions you may have about it or iOS 7.02. Remember to upgrade your phone to iOS 7.02, as several security issues were fixed. First, you can get iOS 7.02 for iPhone 4; later; anyone with physical access to your phone can call any number. In the previous iOS versions, if one repeatedly pressed the emergency call button, the phone would reboot. When it rebooted, the call dialer would not be locked and thus allow access. Anyone with access to the phone without this update being installed could view recently used apps and see, edit, and share photos. The list of apps you opened could be opened while the phone was preparing to lock. Unfortunately, the camera app could also be used while the device was supposed to be closed.
Check out more fantastic content at http://believemeachieve.com