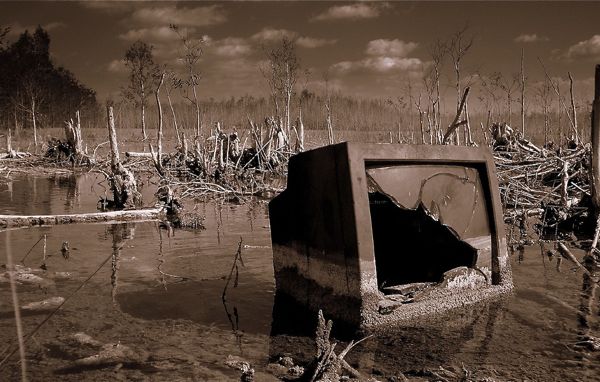 During last week's episodes of The Walking Dead, I saw a trailer for an upcoming television show that depicted men undergoing intense physical training. "Hmm, this is probably a show about MMA fighters or something cool like that," I thought. It turns out that the show was actually about, wait for it, arm wrestling. I laughed and lamented the fact that there must be a serious shortage of ideas for something like that to actually be an upcoming television program, on a solid channel like AMC nonetheless. Later that night, I read an article (http://www.businessinsider.com/cord-cutters-and-the-death-of-tv-2013-11) about how Time Warner Cable had lost over 300,000 subscribers in 2013, then saw another article which stated that in 2013 Google had to delete over 200,000 links that contained pirated shows or movies. Seeing these things made me wonder if television as a media could be dying. The user comments in these articles seemed to echo this sentiment.
It is no surprise that the television and film industries have been suffering lately due to the increasing amount of illegal downloading and streaming on the internet. It is not only illegal activities however; as programs like Netflix played a huge part in the collapse of Blockbuster Video. I think this trend will continue and unfortunately the television industry will have to adapt or fail.
What does this mean for us as consumers? I think that we should be constantly aware of the changes in the technological market, in order to make better purchases. For example, buying a new DVD player would be a poor idea, seeing as how DVDs are steadily being replaced by Blu-rays. Instead of signing year long contracts with a television provider, maybe look into some legal streaming options instead. Why pay more money to have every channel when these channels might not be around much longer? Technology is a growing market and it's important to stay on top of what's happening so that you can avoid making poor purchases.