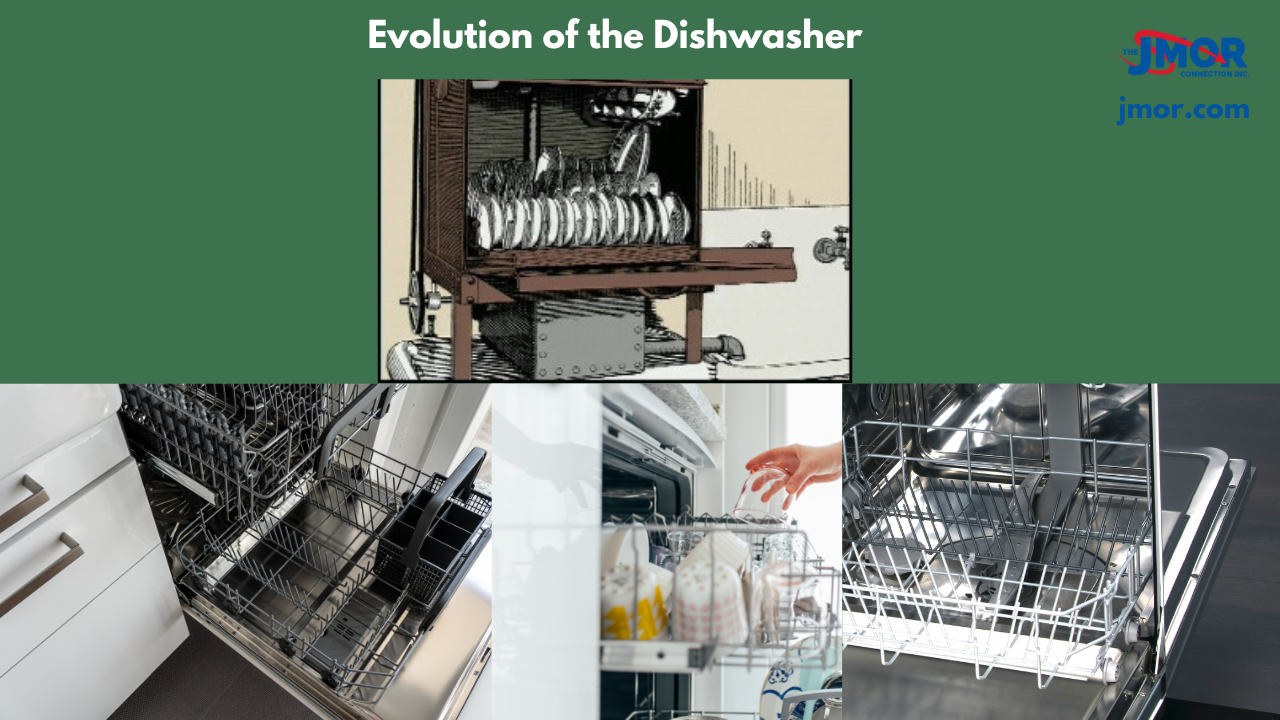 Whether you live in a single-family home, condo, or apartment, according to homestratosphere a dishwasher is a vital part of people's daily life. They state that sixty-eight percent of American homes have a dishwasher, half of which is used from one to six times per week. According to US RECS (United States Residential Energy Consumption Survey), lower-income households use theirs less frequently. According to Merriam-Webster, a dishwasher is defined as, and I quote, "1: a worker employed to wash dishes 2: a machine for washing dishes. I will refer to the first definition for this article and how they work.
The first dishwasher received its patent in 1850, invented by Joel Houghton. The dishwasher was constructed of a wooden box that used a wheel powered by manually turning a wheel to splash water on the dirty dishes, and it also had scrubbers. Ten years later, L.A. Alexander improved on this original design by adding, and I quote from a blog entry on the Thoughtco Website, a "geared mechanism that allowed the user to spin racked dishes through a tub of water,"
In 1866, the first hand-powered dishwasher was invented at Josephine Cochrane's tool shed in Shelbyville, IL, by her and mechanic George Butters. Josephine had become frustrated by always finding her plate ware, such as plates, cups, and saucers, chipped after washing. The well-off, prominently fashionable woman, often written about in the local newspaper, known back then as socialites, also hated to wash dishes. Socialites back then, as mentioned, were famous, married to wealthy business people, and expected to throw frequent, lavish dinner parties. According to a statement filed with the U.S. Patent and Trademark Office website, I quote, "If nobody else is going to invent a [mechanical] the dishwashing machine, I'll do it myself." Did you know that in 2006 she was introduced to the U.S. National Inventors Hall of Fame?
Josephine had no technical experience but came from a family of engineers and inventors. Her father, John Garis, was a civil engineer who supervised several mills near the Ohio River in Illinois. Her great-grandfather invented the first steamboat that was granted a U.S. Patent to make an efficient machine. Josephine measured each cup, saucer, and china's height and length and fabricated wire racks to hold them in separate compartments. Another compartment designed to fit the soap was located at the bottom of the machine.
According to the Lemelson-MIT program's profile of Cochran, they constructed a wheel that laid flat inside a copper-type boiler. The wire compartments were placed within a motorized powered wheel, and as it turned, the soapy water shot into the dishes to clean them. Cochran was granted a U.S. Patent in 1866 for her machine, which she called the Cochran dishwasher. She immediately advertised her invention in local newspapers and built machines for her family and friends.
Around 1890 she founded Garis-Cochran Manufacturing in Shelbyville, IL, and in 1897 the name was changed to Cochran's Crescent Washing Machine Co. Josephine had not only aroused interest from homeowners, hotels, and restaurants but also investors at this time. Back then, it was taboo for a woman to own a business, and several investors wanted to resign. She refused and decided to continue to fund the company out of her pocket. In 1893 she showcased her machine at Chicago's World Fair and won an award for the design and durability of the device. Her machine had become popular by 1950 with the public, and according to a quote from a Lemelson-MIT article and I quote "Some homemakers admitted that they enjoyed washing dishes by hand, and the machines reportedly left a soapy residue on the dishes." The other challenge was that many homes built before 1950 used a furnace to heat their hot water, and not all could produce enough to run the machine.
Unfortunately, she never witnessed her machine becoming a household appliance, as she died in 1913. However, in 1926 a company we all know today bought her company named KitchenAid which is now a part of WhirlPool.
How do today's dishwashers work? First, you must load your dishes properly, maximizing space and using the correct racks and locations for appropriate flatware, cups, mugs, bowls, plates, etc. Your dishwasher is a robot or machine that carries out a set of tasks without the need for human intervention using a proven algorithm. An algorithm is a set of steps to produce an expected result every time. After you load your dishwasher, add your soap, which many people use pods today. If it is your first time using it, then you should add a rinse aid to the machine, and you will usually be prompted on most machines when to refill it.
Once you select the wash and dry type, select start, close the door, and it runs the cycle. Many newer machines will ensure the water is hot enough before initiating a tub fill. Then the machine will start heating the water and open the soap dispenser to release it into the wash. Your washing machine will then shoot water through the arms to clean your dishes. After a specified time, it drains the dirty water and then sprays more water to rinse them off. Yes, it drains again and depending on whether you choose a drying cycle, that will be started. If you don't select drying, the machine will relieve the steam built up in the tub while washing to dry your dishes.
Another nice feature of automatic dishwashers is that they monitor themselves to ensure they are washing efficiently. Some machines like mine will even have an intelligent wash function that determines how much water to shoot and for how long, depending on how dirty the dishes are. For example, many BOSCH dishwashers have a unique drying feature called CrystalDry™ which takes natural minerals to collect moisture from the cycle and converts it to heat up to 176 degrees Fahrenheit.
Dishwashers are no longer a luxury in people's homes but a necessity. Whether you run them once a week or every day, I know you will agree that they save us a tremendous amount of time. People always ask me the difference between a 300-dollar dishwasher and one that costs just over 1000 dollars. The main differences are: whether the tub is plastic or stainless steel, the construction of the dishwasher's parts and controls, features, able to be controlled by WIFI, and the warranty. In short, you get what you pay for; if you pay for a cheaper model, it will not last you many years, and you know upfront that you may be replacing it sooner than you had wanted.