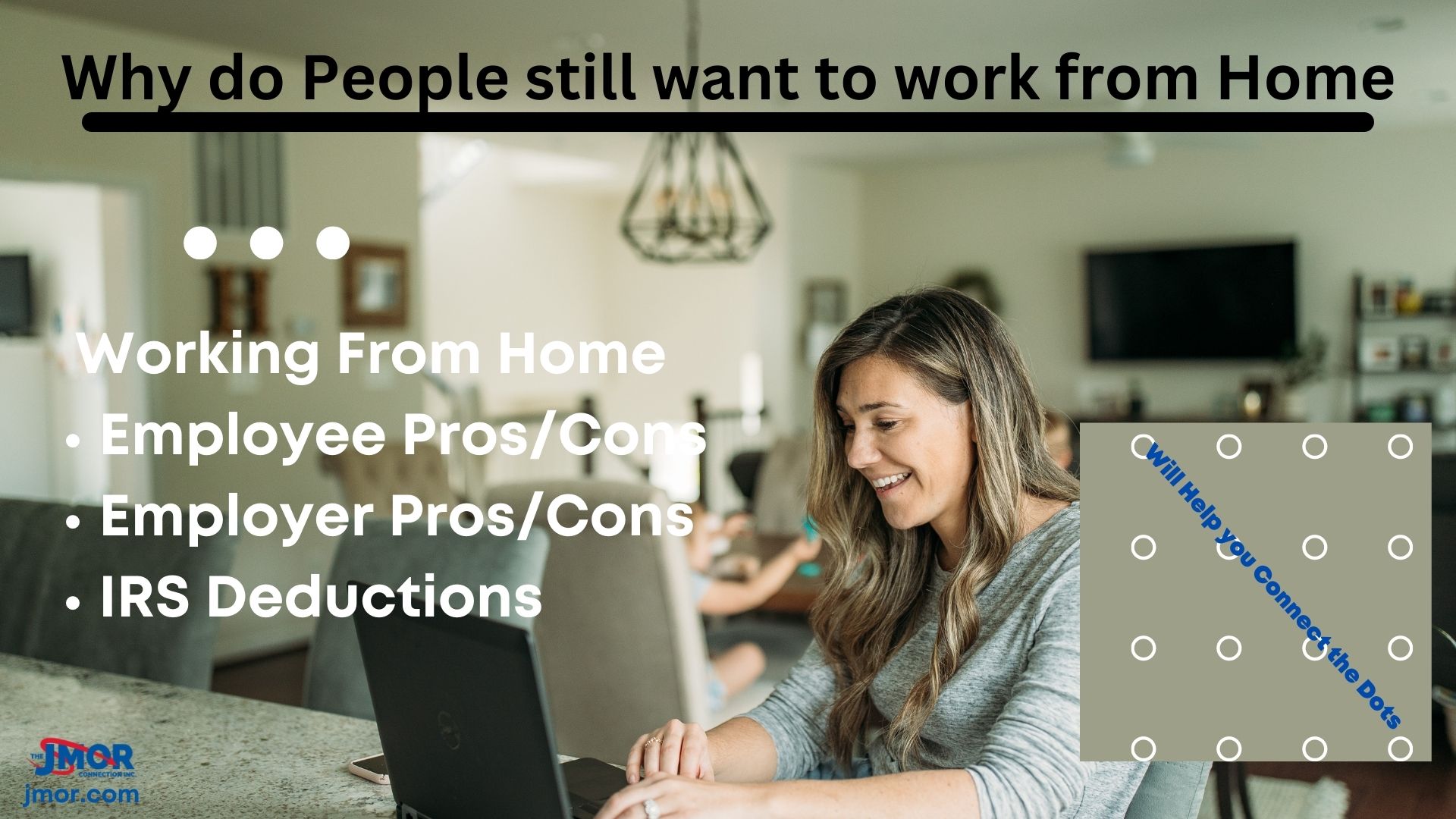 WFH, or Work from Home also known as telecommuting or hybrid work started on a small scale in the 1970s at the same time branches were getting connected to their corporate office via a bridge. When this concept originated, it was done using telephone lines to be the bridge between; however, it became more popular with newer technology emerging in the 1990s. Today everyone and their brother wants to work remotely with more cloud-based infostructures and solutions being built. Throughout this article, I will talk about why this is gaining new momentum and the pros and cons of being a remote worker and employing them.
During 2020 and the national crisis many companies and offices were forced to close thus resulting in people having to work from home to stay safe. The concept of remote workers has brought many challenges to employees and employers around the globe. Thus, companies adopted this new work strategy to keep their doors open. Every company thought it was going to be a breeze unfortunately many companies, employees, and customers learned it was from that.
WFH, (Work from Home) is a new buzzword that everyone is throwing around because they hear from their friends there are many perks to being able to work from home. Working from home is something many may want, but it may not be suitable for them, their specific job role, or the company. There are many things to consider when deciding if you should work from home even if your company allows it for your position. Employees and contractors from around the globe jump right in a cold pool; while others find themselves into water that feels like ice.
Diving right into WFH is not something anyone should do without taking an inventory of themselves and the company. All staff working from home should ensure they know what the employer wants before starting. Are you expected to be sitting at your desk the whole time and away only on short breaks or is it more flexible? Some employers are only concerned about you being as productive as possible while others expect that you leave your desk very infrequently. Do I need to log in when I start to work and log out when I'm done, etc.? Also, make sure that when your day ends, your team knows you will get back to messages and calls the next business day.
Do you have a dedicated, private space where you can work without any interruptions from your family and friends? Will your company or you be able to provide the necessary technology to enable you to do your job well such as a computer/laptop, phone with headset, and collaborative software? Some of these include but are not limited to messaging software such as Slack, teams, etc. Do you have high-speed internet and if not will you or your company pay to get it?
Did you know that many want to work from home because they want to be able to take naps or exercise during their day? Others want to watch TV or be able to work other side jobs while getting paid to work for their primary employer. They want a better work-life balance and feel that it will remove stress from not having to commute each day. WFH opens the talent pool for companies and gives employees and contractors location independence. Did you know that according to flex jobs people working from home may save close to $4000/year? Some of the things that can be reduced are gas, car maintenance, transportation, parking fees, professional wardrobe, and lunches bought out and thus I'm sure many would agree that this money is severed better your pocket.
There is a large group of people that feel it will be more environmentally friendly because it reduces the carbon footprint given off. Others love the idea of being able to set up, customize and personalize their own workspace. Some of the things to choose from are an ergonomic chair, an adjustable motorized desk that adjusts to many heights at the touch of a button, and many other amenities.
Taxpayers need to understand the guidelines of what the IRS will allow them to claim and deduct it. First employees are not eligible to claim a home office deduction of any kind which is available by using form 8829 for both homeowners and renters. Remember that only your mortgage interest, insurance, utilities, repairs, maintenance, depreciation, and rent may be included on the form. Several people have gotten into trouble by not understanding the definition of what a home is as per the IRS for a valid deduction are a house, apartment, condominium, mobile home, boat, unattached garage, studio, barn, greenhouse, or similar type of property. Thus, you may not include any part of your home used exclusively as a hotel, motel, inn, or similar business.
Wait there are still two more conditions you must adhere to for a valid legal deduction on your taxes. There must be the exclusive use of the area of your home or property used for business only on a regular basis. Thus, it is perfectly legal to take an existing bedroom and use it for a business space providing it is used exclusively and regularly. The home must be the primary place of business but a person who conducts business outside of their home and uses their home office space exclusively for business may qualify.
Now you may be asking how one calculates the deduction I am allowed to take. There are a few ways but for simplicity let's use the most standard way. Let us assume that you have 500 sqft, for your home office and it will have a rate of $5/sq ft, then the max you may deduct for that space is $2,500 respectively.
However, there are some drawbacks to working from home and they include: being alone, increased home office costs, risk of being burned out, and of course not enough face time to build long-term, quality, relationships.
If we look at the other side of the coin which is the employer what are the pros for them supporting work-from-home jobs? They love the fact that all communication that takes place can be unified in one place. Many employers notice increased morale which leads to greater productivity to affect the company's bottom line. They are able to give the employee the ability to have a healthier life to support a great work-life balance. Employers are no longer limited to just the talent pool that is within driving distance of their office. Workers often feel more respected and have fewer sick days and this also decreases employee turnover and additional training costs. Lastly, companies are able to save on not needing to pay for large offices and since people are able to work from different time zones are able to extend the hours of operation they provide service.
With anything, there are always challenges and unfortunately, they may be are not limited to: miscommunication from digital communication, employees may spend more time not working than working. Remember there is also an investment they have to make in each employee working from home to provide the resources and services to do their job. The people who are working in the office may be biased and fail to provide support or adequate communication to work-from-home employees or contractors.
According to Elon Musk, calls it and I quote "morally wrong and people need to 'get off the xxxxxx moral high horse with the work from home bullxxxx'. He also told his workers at Tesla last year and I quote "they could work in the office full-time or quit."
Thus, working from home is not something your employee has to do, and may or not make sense for them to offer that option for your specific job function. Regardless of whether you are working from home or at the office, the client needs to receive exceptional services all the time or they may leave without saying goodbye or why.