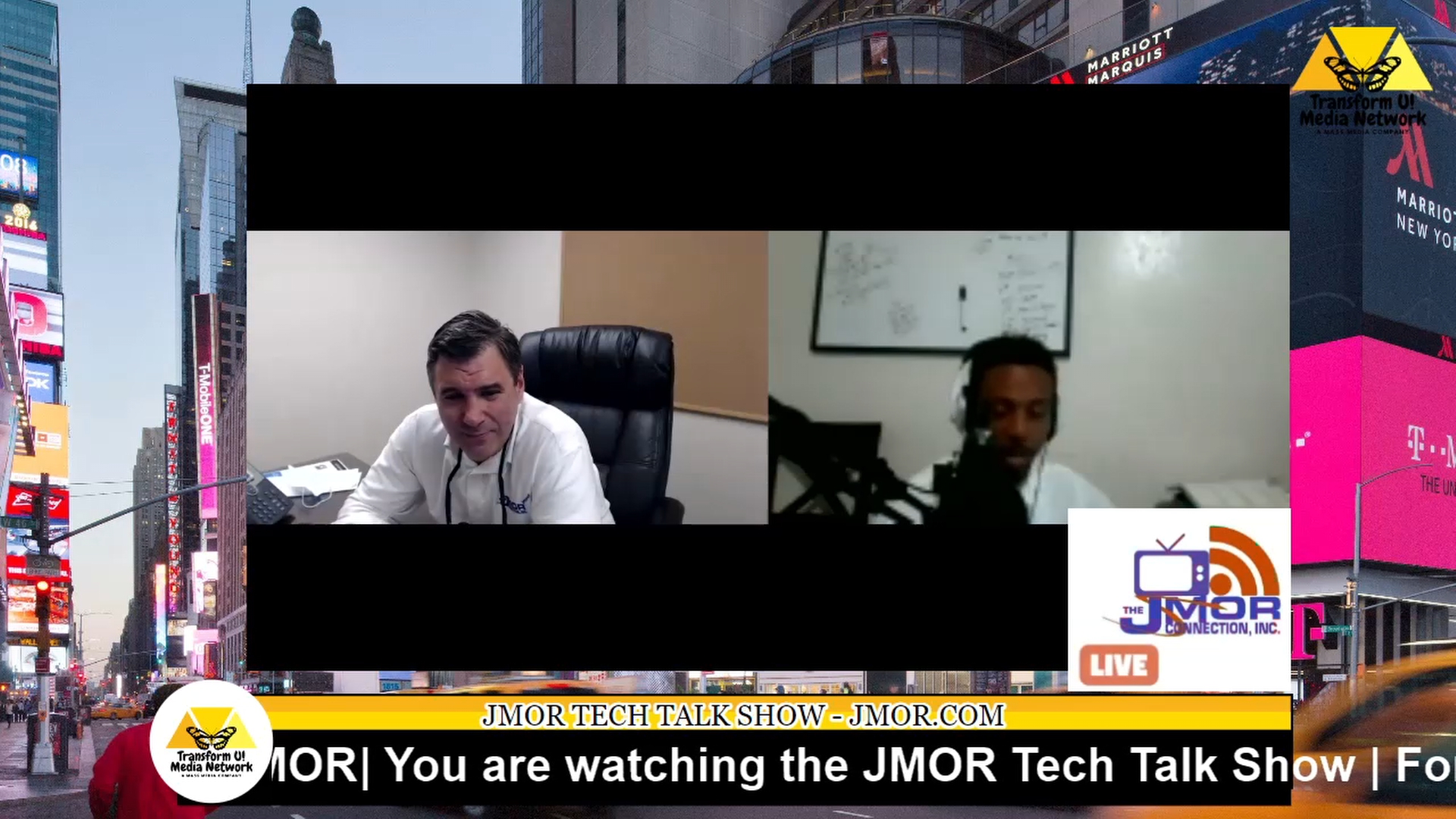 Click Here to Watch This Episode
John C. Morley
Exactly. So I don't know about you, but I'm getting excited about the iPhone 13 coming out.
Marcus Hart
People have been asking about this quite a bit. I think people are kind of getting bored out with 12 now.
John C. Morley
I've had my iPhone 12 plus. Marcus, I have to tell you one of my most popular unboxing videos was my iPhone 12 max. Hello, everyone. It's that time for The JMOR Tech Talk show where we answer questions about technology, explain the way they should work, and why they don't some time. And now here's your host, John C. Morley. Well, Hey, everybody and welcome once again to The JMOR Tech Talk show. It is great to be here on another wonderful, fabulous Friday. And, Marcus, It is the last Friday of the month. It's great to have you here, by the way.
Marcus Hart
Yeah, we made it to the end of the month. I'm very great to be here, John. And thank you so much for another great month.
John C. Morley
It's been another great month. We have another great quarter coming up. And we have a lot of great things in store and including some amazing guests before the end of the year. But before we get into our show, I want to thank our sponsor tonight, Everyone Wins Foundation. And you can learn more about them at e-v-e-r-y, the number one w ins.org. We'll learn more about that great organization a little bit down in the program. But again, we thank you for your support and your sponsorship tonight. Now, when we talk about people doing the right thing, you know I always talk about doing the right then, people do the wrong thing. And a lot of times Marcus, it really doesn't have a lot of consequences, right? It's like a slap on the wrist, right? It's a slap on the wrist. Or taking a rubber band and snapping it to you, right? But I gotta tell you, when you play around with the wrong people, especially the Federal Trade Commission, well, you're going to get more than a slap. And that's exactly what happened. When LifeLock played around with the FTC. This was back around-- the allegations were starting, that the identity theft protection provider violated a 2010 commission data security order. In 2015, the Federal Trade Commission found LifeLock to be in contempt of the 2010 agreement, charging that they and I quote, failed, quote unquote, to establish and maintain a comprehensive information security program, and falsely advertised that it protected consumers sensitive data. In case you're wondering about the money of this company, in 2015, their net income was 51 million. The total assets were 592.81 million, and their operating income was 84.74 million. So they got a slap, 31 million. The FTC is forcing them to return back to customers. As I was mentioning, I just got a refund just the other day. And so if you are a LifeLock customer or were in 2010 around that period, you should be getting some kind of money back. If you don't get something back in the next 30 days, I would go online and just look for LifeLock space FTC settlement. And you'll find out how you can get your money back. They're supposed to give you the money back without you contacting them. But they say if you stumble through the cracks. So the thing that I want to say about this company, a lot of other companies, they have these call centers, Marcus and we all deal with this. And the challenge with these call centers is their center is based on people. And I don't have anything against people don't speak English, but they don't even understand English. So it's like they try and then when they say things, Marcus, like we're gonna help you with that one, or we're gonna be helping you with this one. Which one? That one. I just want to take my head and just bang it against the table, I swear. But don't feel too sorry for this company. Because like I said, in 2015, 84.75 million
Marcus Hart
And all that's about to be just taken away, about a good 31 million of it.
John C. Morley
They still have a lot left. The thing is this. Now, this is really interesting is a lot of these companies and I believe if I'm correct, they have LifeLock. And then they have another company called Norton LifeLock. I'm not sure if they're the same company or not. But Norton has a few bucks. And it's the same company in 2019, its revenue in the fiscal year for 2021 stood at 2.5 5 billion US dollars.
Marcus Hart
Oh, wow. We can only hope that it's not the same company because it's just like taking your data and putting it on somebody's spreadsheet.
John C. Morley
Yeah, so it's definitely a problem. And I think more people don't understand what's going on with this. And they don't realize that it's not about trying to find the cheapest company to deal with it. And I don't know, I think people, they get a free subscription or something like that. And then for whatever reason, suddenly their-- I don't know. And guess what, guess what they are, they were purchased by Norton. If you go to lifelock.com, it says LifeLock by Norton.
Marcus Hart
Okay, so they just changed the name a little bit after they--
John C. Morley
Well, this happened in 2017. So Symantec, which is the parent company of Norton at the time, they complete the acquisition of the LifeLock company a couple of years. And in 2019, Symantec went apart from Norton to join Broadcom. At that time, Norton and LifeLock became one company, Norton LifeLock Inc, a totally new company. Yeah. And it's interesting because it's almost like they knew this was going to happen. So the problems happened in 2010. And I think that's why the company was probably sold because somebody wanted to get out.
Marcus Hart
And it would makes lots of sense when you being investigated by the feds. I'm pretty sure they got a couple of interviews. And before the final indictment came, they say, well, let's get out of here before they come through here.
John C. Morley
The thing is this, Marcus, you can have all these different services and there's lots of them from LifeLock to a plethora of other ones. Even some of the people that do the, let's say your annual reports for your credit scores, the three that we know, they will offer services as well.
Marcus Hart
Yes.
John C. Morley
And the question is, is LifeLock a scam? And the fact of the matter is, no, it's not a scam. However, I have to tell you, maybe they're changing their ways, I was never impressed personally, with the way they handled my data. And when they took half hour or an hour to just reset something or helped me because suddenly another member of my family went to the drugstore in a different state and they put in a change of address for me, because the pharmacist clicked on the wrong address in it sent a flag up and they suddenly thought I moved. So, it's a problem. And I think more and more people are going to understand the fact because I could go on this all day and I won't, but two important things I want to say about this one, you should have some type of company that is monitoring your services, some of your financial institutions will offer it, they'll third party it, what have you, they're all pretty reputable. And they all basically do the same thing. The other thing I want to encourage you to do is to get a good quality Shredder. That is so vital. Because most of your data, Ladies and gentlemen, it's not just being stolen online, even though a lot of it is. There's still that 10 or 20% that could be stolen right out of your trashcan while you're sleeping.
Marcus Hart
Exactly.
John C. Morley
So, again, I don't feel bad for them. And I just feel that this was something they knew was coming, Marcus, they knew this was coming.
Marcus Hart
It's just a matter of when it was going to start collecting off of it.
John C. Morley
And they originally alleged that the claim was from 2012 to 2014. But they kept-- that's when they violated the order. And by falsely claiming that it provide 24/7, 365 alerts as soon as when it received the indication of consumers identity was being used. They really were not keeping up as quickly as they advertised. And under the terms of the FTC, the Federal Trade Commission's 2015 settlement with the company, LifeLock, agreed to pay, sit down for this, Marcus, 100 million to 68 million of which was set aside to provide refunds to consumers who are part of the class action lawsuit from the allegations.
Marcus Hart
Wow.
John C. Morley
The class action settlement paid more than 67 million to class action consumers. The FTC is using the remaining money to provide refunds to consumers who were LifeLock members between 2012 and 2014 but did not receive a payment for the class action settlement. So that's probably what happened to me is that I probably was part of that second part, because I didn't actually file as part of the settlement. Because I was a consumer in that period of time, that's why they gave me a refund of some amount of money. It was not a lot. It was maybe a fraction of my service. I think it was like under 50 bucks. But it was something and I didn't have to do anything for it. So the FTC now has been mailing more than 1 million checks averaging about $29. You heard that right, right?
Marcus Hart
Yeah.
John C. Morley
They're mailing more than 1 million checks averaging $29. But when you think about that, Marcus, 1 million, 29 million.
Marcus Hart
That's what it is.
John C. Morley
And Recipients need to deposit that cash cheque that's written out to them within 60 days, or they could forfeit the money. Now, the FTC never requires people to pay money to provide account information to cash your refund check. If you ever get something like that. No, it's a scam. Okay. Also, if you have any questions about the LifeLock situation and maybe the FTC, I have an 800 number I'm going to provide you with and that's the Federal Trade Commission. You can call them at 1-866-898-5106. That's 866-898-5106. Of course, you can reach out to theftc.gov for more information. And there's actually a refund administrator. Again, that number 1-866-898-5106. And LifeLock to pay 100 million to consumers to settle the FTC charges of violating the 2010 order. That's just a big mistake. We've all heard what happens, Marcus, if you don't file your taxes or if you don't pay payroll taxes on time, or your sales tax, guess what happens? They do more than slap your wrist. They charge you with a penalty but not as bad as 20 or 65 million.
Marcus Hart
No, not at all.
John C. Morley
It gives you a couple $100 or a few $1,000 but it's a percentage usually. So we're just gonna have to keep an eye on what's going on. But I want people to be aware our whole thing about our show is not just education, Marcus, but it's awareness. Because I think if people were aware of certain things then they wouldn't do the next time or they be more conscientious of it.
Marcus Hart
At least weary at the moment.
John C. Morley
Exactly. So I don't know about you, but I'm getting excited about the iPhone 13 coming out.
Marcus Hart
People have been asking about this quite a bit. I think people are kind of getting bored out but the 12 now
John C. Morley
I've had my iPhone 12 plus. Marcus, I have to tell you, one of my most popular unboxing videos was my iPhone 12 max.
Marcus Hart
Yeah. That's a good video by the way.
John C. Morley
Thank you. So we're making a few changes. So if you've been watching the reviews channel, starting next month, we'll be doing not only a lot shooting straight on but we'll be adding a top down camera with some cool mats and we actually added a rainbow knife. You have to check that out because we don't show that knife anywhere else but on the JMOR unboxing channel. And so we literally show you our amazing rainbow knife. It's a hunting knife and we have this great mat and the camera so we give you a top down approach of the product, not just like a front view of the product. And the iPhone 13 is said to have the same size as the iPhone 12 model. This is what they're saying. You have different things which we saw on 13, like the system wide dark mode, revamp photo app, new photo editing interface, signing with Apple location data limits, looking around maps, new reminders, things like that. And the iOS 14 version, we went to compatibility to run iOS 13 home screen, new app library, app clips, no full screen calls anymore. Privacy enhancement, translate app, cycling and Evie routes. So that was kind of neat. But people are saying, John, what features will be on the iPhone 13? And that's a million dollar question. Apple really doesn't tell us a lot. But the thing about it is that Apple is supposedly going to be again, this is speculated but usually it leaks and we can figure it out. The iPhone 13 is supposed to come out at their next virtual conference which is going to be in September. And it's gonna be interesting. And the rumors are suggests that Apple will unveil the iPhone with camera improvements, faster chips, a smaller notch that you can get into and they're thinking may be under display Touch ID. That's interesting.
Marcus Hart
Yeah, it is.
John C. Morley
Because we had the eye for a while, right? The face?
Marcus Hart
Yeah.
John C. Morley
They're bringing the touch possibly back. Isn't that something? I think a lot of people thought the touch was a pain in the rear end.
Marcus Hart
There has to be some type of-- if it's not been in approve, I don't see why you will want to bring it back in. Because people gotten kind of accustomed to the face recognition.
John C. Morley
I have, you just have to get used to it, you have to press the button on the side of the phone. And one of the newest things coming out now is you probably know about the new cards, the new smart debit and credit cards, you could just tap to pay. We've heard about it but they're becoming more prevalent now. And the reason is because many banks didn't want to issue your credit card or your debit card or bank card, because it would cost them money. Unless you really wanted one or you lost it. They were just letting you use the same card to expire. Well, a lot of my cards are expiring next month. So guess what I got? I got new cards with the touch feature. But a lot of places you go don't have this properly enabled. I went to a merchant the other day, and I used my card to tap and pay. And that was it, I didn't ask for a pin. I went to another place and asked for a pin. Now I think it should ask for the pin because if somebody stole that card from me, they could just tap and I wouldn't even know they did it.
Marcus Hart
Right. I definitely agree.
John C. Morley
Yeah, so I think it's good what they're doing. But we've got to be concerned, Apple's next event is just around the corner. And of course, there isn't any word officially from Apple quote unquote, which is par for the course. So the saying the September fall event and we're also possibly going to get a glimpse, Marcus, of the ninth generation iPad later that week when they release the phone.
Marcus Hart
Yeah, that's gonna be cool.
John C. Morley
It's definitely gonna be interesting. But speaking about new technology, the thing that I want to bring to your attention is imagine an Xbox, series x controller, now catch this, made out of solid gold. Yeah. So there's a YouTuber, who created a solid gold Xbox series x controller that acts as a functioning gamepad but costs 1000s of dollars to manufacture. Gamers looking for the most expensive video game accessory might be in luck as the YouTuber has created a solid gold Xbox series x controller, which is fully functional. And how much do you think it cost them to develop this puppy? Not selling, how much it cost them to develop it, make it?
Marcus Hart
Oh, man, If I had to be a guy who was going to walk into the grocery store, thinking I'm gonna buy something for $1-- I'll be crazy to think that this was under anything less within what a Gucci scarf costs.
John C. Morley
And what's the cost of that now?
Marcus Hart
Oh, yeah, you get those about a $1,000 and up.
John C. Morley
Okay. So let me let you sit back. You may want to have a second drink. The development costs, not the selling cost is just under 100 Grand at 80,000.
Marcus Hart
Oh, wow.
John C. Morley
Okay, that's the W cost. Okay, so it's a unique game pad. And it's a 24 karat gold plated PlayStation 5 console and it's being sold to gamers-- You're ready? For a measly $10,000 plus tax.
Marcus Hart
We got a new down payment on a house.
John C. Morley
But the thing is Marcus, this was actually designed not for the reason you think. It was really designed to boost the popularity or not really the popularity but I would say really just show people how successful this guy is on YouTube. So that was the whole thing and maybe you know, but the person-- if you want to know who made the gold Xbox, you'll probably recognize the name when I tell you his name. But who made the gold Xbox controller? Well, this is a very famous YouTuber. He's been out for a while. He has a whole company. In fact, he's called the Linus tech tips. YouTube channel that was constructed the Xbox controller and he really did this to, I'm gonna say, show off. He didn't do it to make money.
Marcus Hart
Yeah, and I guess rightfully so because it definitely earned up some great press here.
John C. Morley
But he had brownie points before this. He didn't need that.
Marcus Hart
Yeah, he didn't really need it. But it's definitely quite impressive. And for what it is worth, I think the resale value of this thing down the line is going to be just off the wall.
John C. Morley
Exactly. It's gonna be pretty amazing because I'm waiting for them to sign it and actually put numbers on it like they do with Derek Jeter or the baseballs or the footballs or the bats, right? So everybody kind of wins in the long run at least, right? But speaking about winning, that brings us to our sponsor, Everyone Wins Foundation. So at the Everyone Wins Foundation, they give both the recipient and the donor the tools so that everyone wins, just like in this little game. As a charity, they have an online fundraising platform that provides the exposure needed to promote your story to the world. Best of all, Marcus, it is free to register and start raising funds. Now unlike many other online platforms, which you and I have heard of before, Everyone Wins does not forward any money to our recipients, only products and services predetermined on our recipients charity registry wish list. So their donors know exactly how their generous donation is being spent. Accountability and transparency, I believe, is what sets Everyone Wins Foundation apart from everyone else. So check out Everyone Wins, be a part of Everyone Wins. And you can visit them online at the word everythenumberonewins.org that's everyonewins.org I think I'm going to do that, Marcus. This sounds pretty neat. I'm going to definitely give this a try.
Marcus Hart
Definitely Sign me up. That's a great call. They're doing some great things over there.
John C. Morley
Absolutely. And thank you again for your support. So, Marcus, when we're talking about Xbox, the rest of the world is probably not going to buy the $10,000 product, at least probably not tomorrow. Right. But what if there was an Xbox, series x Halo infinite limited edition console? Okay, that is already starting to-- Well, it is out I'm being hypothetical, but it was actually during the Gamescom 2021. For those of you that are gamers, Microsoft unveiled this new limited edition, Xbox series, x bundle with the striking Halo infinite design and matching controller, and it cost just 550 bucks. And you can preorder the new Halo infinite Xbox x bundle as they've gone live at the Microsoft Store and target. But of course, it didn't take long for them to sell out so they're not there anymore. However, there was a person from Walmart that confirmed to CNET that they're going to have a drop at 5:30pm or 8:30pm coming up. So the placeholder listing is already live and being ready on the listing at the time of stock is bound to sell extremely fast. So this is something that I guess people are going to want to start buying now for their Christmas lists or their Hanukkah lists early because this is not something you're going to go get 24 hours before Christmas or Hanukkah.
Marcus Hart
Oh, that's not happening. These lights are going to be wrapped around the corner for this thing and it's very popular.
John C. Morley
There's an interesting company, Marcus, I don't think they're still in business. Now imagine we're all very busy. You and I, and we probably don't want to go stand on line. Do we for hours?
Marcus Hart
Oh, no. Not at all.
John C. Morley
I imagine this. You're in line, right? And then you use your phone very similar to Uber, or Lyft or what have you and you text somebody. And then they come and they take your place. And you pay them per hour. This is not new. This has been around for a few years, but it's becoming more of a phenomenon. Especially with the pandemic, people don't want to stand in long lines but they'll pay somebody else to do it.
Marcus Hart
Oh, yeah, that's pretty cool. I would say that I think that's becoming more worth it now. It's value in that.
John C. Morley
And speaking about the pandemic, you may or may not have heard but the third booster shot is out.
Marcus Hart
Yes, it is. That's been rolled out now. And I think they've recommending after about six to eight months now that you go and get your booster.
John C. Morley
Yeah, exactly. So people can get their third shot of the vaccine. And you could check with your actual manufacturer of which drug you took. For example, the Moderna, I believe needed to get it in about, I think it was like around six or eight. And I think Pfizer's was a little longer, it might have been like, eight to 10. So you can check with them but you have to apply online. And they're saying that this is really going to help with the different strains that are coming in, the Delta variant. And so they're also believing that you're probably going to need to have this shot every year. But here's the interesting part that I think is really cool. People are never gonna have to pay for this directly. The government's gonna pay for this forever. But you know you and I are paying for it indirectly. It's coming out of our taxes.
Marcus Hart
Oh, yeah.
John C. Morley
So don't worry about your health insurance because we're going to cover you through your COVID shots and everything for your life so don't worry about it. You need to have it for your heart attack or other challenge you have or cancer but don't worry about the COVID, we got you there, we got you covered.
Marcus Hart
It just seems pretty odd to me that like, if we will rule out so many other things that's factors into keeping us healthy. And I just don't understand our logic sometimes.
John C. Morley
I don't either. And everyone's so worried about isolation here and there. Well, work from home isolation is really starting to take a toll on many. With the delta variant and getting people befuddled about returning to the office, many companies out there are still, Marcus, we heard delaying the reopening.
Marcus Hart
Yeah.
John C. Morley
And some are thankful for this extra time at home. It's really sending some to asylum because they can't stand being at home anymore. They want to go back to the office. And so, it is a challenge. And I think it's interesting people are working home. I think it's great that they are having, I was said before, there's a hybrid workforce. Some people are going back, some people are staying home and they're getting a choice in some cases, but a lot of smaller companies, Marcus, can't afford to do this.
Marcus Hart
No, and even in our own office, suite building here, we starting to see a lot of smaller businesses come back and just fight it out. And at some point, they're gonna have to make a decision. And if we're going to sacrifice people with mental health, it's not going to be a very wise choice to do.
John C. Morley
Exactly. And another little turn in the picture here is that remote working is growing and the number of employees for offices are delaying, as we said. But companies and other places like New York Times, survey found that 31% of workers would prefer to work from home full time, while 45% wanted to be in a workplace or an office full time. And 24% of the people want to split the time between work and home. I don't have a problem with them working from home if they're doing a customer service job or something like that. My challenge is if the company's technology is not up to the right standard, the service is horrible. I was calling a place before. And I said, I know it's not my phone, I can hear you, my phone works fine. So and then they're laughing. I said, No, I said your technologies inferior that your company is using.
Marcus Hart
Yeah, I have a spirit quite a lot throughout the whole entire pandemic. These VOIP phones are just horrible.
John C. Morley
Well, we have IP phones too. But I'd say it's not the IP phones. It's the technology you get what you pay for. That's what it comes down to. You can buy crap and you can buy great voiceover. I mean, we've had Voice over IP technology for over four years, and it works really well. So as I said, the Oh, it's your phone? No, it's not my phone. It's your phone. Well, it's your cell phone. I'm on a landline. Oh, well, how many bars you have? Oh, I don't really have any bars. Where are you? Well, I'm using a connection through my main office which is routed back through some other office and that comes back to me and his people don't like know what they're doing. The people that are using it, the people are setting up. So it's a big, big problem. And I think it's gonna continue to grow.
Marcus Hart
Yeah. I can't see it improving at this point unless someone is willing to just start making the sacrifices and forking over the money to upgrade.
John C. Morley
I mean, more places I go to, Marcus, they big name realtors are selling buildings for 30, 40, 50 million and then moving into smaller places. And I have to tell you, that I'm sensing a lot of these small mom and pops or maybe even the bigger companies that they're going to be getting out of their real estate market. Because I feel that if you don't have what it takes to keep someone, you're not going to be around. And so, when you're a landlord that basically doesn't want to work with people, I think that's the problem. And then a lot of these landlords, Marcus, they have egos. Egos out the Ying Yang. I remember when we were putting a sign on our door, we went four months to get a sign approved. And after the sign was approved and everything matched correctly, we got a letter sent back to us telling us that we approve your sign with one caveat. There was a two page letter, said, we approve the sign, land approves the sign with the understanding that you must remove the decorations prior to your exiting of tenancy. Okay, no big deal. And if the color of the window should change or might be the same opacity as when you moved in, you'll be required to remedy the situation or replace the door. Now, I'm sorry, we're putting a piece of frickin vinyl on a window. How is that going to change the opacity of glass?
Marcus Hart
Oh man, I don't think sometimes even know what their terms mean, And I think they just take the whole lowered part of the landlord to the max.
John C. Morley
Yeah. And one time I said the person, I said, this doesn't make sense. Oh, John. They do that with everybody. Are you serious or you don't take it personally? I'm not, it's just ridiculous. You've actually taught me that when I become landlord, which I'm planning to do in a few years and on a building, I'm never gonna treat people like this. Like, this is insane. Yeah. And I find that the larger the ego, the more they think they can get away with.
Marcus Hart
Definitely.
John C. Morley
And they feel they can just crack the whip or do whatever they want, or you can get out, basically, which is a terrible, terrible philosophy. But I bring this to your attention because the business world is changing from going to on site to hybrid to all these different things, right? But what it comes down to is that even big publicly traded companies can't get people that even the how to read an email. When you have to send screenshots and shares and something that's like something a two year old could understand. I think they got the wrong person in the job. Right. And that's a problem. And I feel that a lot of companies out there today are not getting the chance to do what they need to do, because they're going through all these little mazes, Marcus.
Marcus Hart
Yeah.
John C. Morley
And I told one person one time I said, Well, maybe you have time to go through this nonsense but we're busy. And if you want us to do this, Would you do me a favor? Would you call us during our non-revenue generating time, which is after six? Between six and eight, the next morning. Why don't you give us a call? We're not making money. And they laughed at me, and I'm like, I just can't. But the last thing I have to share with you last story, really important story. I was on-- I streamed to LinkedIn every night. And well, there was a comment, somebody posted something about not related to my show, but they posted because so somebody-- there making all these connection requests. And I came back and said, LinkedIn is meant to be used in a different way. Too many people abuse LinkedIn, and think that connecting with others is a right. It's not. It's a privilege. Out of hundreds of people, several 100 liked my comment. Two snickering people had comments back. You need to chill? No, you need to realize that I don't spend time with people that are not high caliber. Another person came back to me and said, Well, you really just need to take it easy a little bit. Why don't you take it easy? Then another person said to me, Well, it's everybody's right. I said, Yeah, I said, and that's why LinkedIn needs to enforce this so people like you could be blocked. I said, it's up to me. I think LinkedIn shouldn't be free. They should charge everyone. So we'll get rid of all those people that are trying to milk the system. A lady says, well, I could do whatever I want it. I said, Yeah, until your account gets blocked. I say keep doing what you're doing and you'll be blocked permanently very soon. They don't realize. I had a lady. It was about a month ago. And I had quite a few 1000 people that had commented on my video post. And she said to me, she said to me, oh, this advice is so amazing, like really great. And by the way, I'm such and such. Okay, fine, no big deal. Then she says, I'm a five star realtor in the area. Okay, fine. Not a big deal. And I have three houses for sale. One is on the street and she posted the pictures of the houses. I then went back, I didn't say a word to her. I didn't say anything. I clicked anonymous report to LinkedIn. Two minutes later, I got an email back. Dear Mr. Morley, thank you for taking the time to report a possible violation to our terms and service. We will immediately investigate this. If it does indeed violate our terms of service of conditions, we will immediately remove the post and deal with the person directly and consequences will result. Okay, fine. Next morning, not even 24 hours. I got an email back. Dear Mr. Morelli, thank you once again for reporting the violation of such and such on your account anonymously. You can be rest assured that your comment was not made public and we did indeed investigate the situation and found that such and such was definitely in violation of the LinkedIn terms and service conditions. Therefore, we have already removed the comment from your blog. And we have taken direct action where she'll be suffering consequences for her actions.
Marcus Hart
Wow.
John C. Morley
I was like, blown out of the water. The lady is like, gone now. And I don't even know if she's gonna ever be brought back to LinkedIn. But all I told people as you don't want to play with LinkedIn. All these companies that come out, Marcus, and say, oh, you know I got this great thing, you can use this auto pilot and we'll send you so many messages. Yeah, keep doing that, your company is going to be out of business. And the people that are making that software, they're going to be shut down to eventually.
Marcus Hart
Oh, yeah. I really hate that software. It's really annoying and it's really taken away from genuine conversations and genuine connections. So it's just terrible.
John C. Morley
That's the challenge. And I even called one of the owners of those companies. And I said to him, I said, you know there's 100 connection requests limit on? Oh, yeah, we can get around that, we can do free messages. I said, you're just teaching people spin. No, no, we're helping people connect. And when the southern lady got back to me on LinkedIn, just was our choice to use however we want. I said, Yeah, as long as you don't violate the terms and service conditions. She said, let me use it the way I want, mind your own business. Three people got huffy out of a few 100, not terrible. But that just goes to show you the quality and caliber of level of people that are on there. There's some good people, all those people were cheering and cheering and cheering and cheering, but three people were like, you need to really take a chill, or you really need to relax. No, I don't think they understand what reputation means. And how you can damage your reputation, Marcus, in the fraction of a second. You could take months, days, months, years to build it and then destroy it. Just like that.
Marcus Hart
Yeah, that is so true. You really alluded to something that needs to be brought to the surface and people need to take it at face value and not move away from these old-- These are old courtesy--
John C. Morley
Common courtesy. It's like common sense. And courtesy it's like, I don't know, these people were born, they must have been on the lunch line instead of the common courtesy and then that common sense. But it's sad. Then I had a national guy who's a very large sales person all around the world. And I reached out to him and I said, I'll just call him Jim. That's not his name. I said, Jim, I wanted to give you some advice. You have some amazing content. However, your techniques and the way you approached me and other people are below the belt. Okay, you're coming off as a salesperson, a bad salesperson, because you're trying to pitch people. Come comes back to me says, oh, Thanks for the advice. And that's the way he comes and she says, well, everybody has the right to do whatever they want. And if we want to pitch people, we can. And if you want to not get blocked well, don't hold your breath. Because they get enough reports. Five, I-don't-know-yous will block you for your first 24 hours. Five I-don't-know-yous. And I think people don't realize those consequences. I had a great show last night and I told people this, do what Dale Carnegie says. You all know Dale Carnegie, How to Win Friends and Influence People. Amazing courses, amazing book. He said two great things, People want to hear the sound of their name and hear it said properly. So don't botch their beautiful name up. Ask them to say and if you can't pronounce it. And the second thing he said is strive to become genuinely interested in the other person. You don't matter I don't matter. Let the other person-- and when you go to a networking event, you go somewhere, if you're pushing away I do this, I do that or Hey, it was great to meet you, What brought you here. Don't get right into shop. Get to know the person a little bit. I mean like, and you can tell the people that are trying to push you, you can just tell. And these people generally like will either block you or they want to move away from you. You'll get some people that want to stick to you because they want to absorb the followers you have. And those I want to blocking too because it's reputation. I think people just think it's like throwing everything to the wall, Marcus, and some's gonna stick. And if I get a nice sale, well, don't worry about the mess. But that reputation is so priceless. So if they would just take the time to understand, that's really what it's about. I don't know why people are so zealous to want to make the sale and it shows, Marcus. It comes right through their body language, it comes right through their words. And one guy said, he says, your videos don't sell anything. Well, they're not supposed to. Well, that's what you're doing wrong. You need to be pushing-- No, I said, I offer value in my videos. Yeah, that's your problem. No, that's not my problem. That's what people like, they like that information, they want value. Well, we are at the top of another show. And before we do sign off, I definitely do want to thank our great sponsor, Everyone Wins Foundation. So, ladies and gentlemen, if you are looking to help fundraise for charity and you don't want to deal with money, and create a wish list, or reach out to everyonewins.org and just check out their platform. After all, Marcus, it's free, so you have nothing to lose. I know as soon as we finish, I'm going to head over there and see what they're about. Because it's pretty cool. I've never heard anything like this. And the fact that they're a charity just gives me a whole new respect for them. So definitely go check them out. And listen, ladies and gentlemen, we have some great shows coming up next month, September, and October, we have some great people coming as well. Some guests starting in October, including a gentleman that wrote a book, How To Kill Remotely. He is a retired colonel in the armed services. So very interesting things coming up. And listen, if you have an idea for a show, go to Jmor.com. I'm proud to announce that in about a week or two, our whole entire process will be automated. And if you would like to become a guest, you can now click on reach out and you can click apply to become a guest. And the whole process is automated, including the vetting process and everything that you need to know because we really want good quality guests and we feel that if you can't put the right information in, we're not even going to consider you. So the form won't even be submitted in our database. If you don't answer all the questions. And we do want to see that you've been on at least one or two shows, either with a link or something or have done something. We don't just want to take someone who's never been on a show before. So we are going to ask for those links. You can add as many as you want. And we'll review basically your application. So we have a lot of great stuff that I encourage you to check out jmor.com, JMOR reviews. Check out JMOR unboxing. We have some great unboxings coming up, I know, this coming week, we had a light last week. This week, I believe we did some unboxings of a power line review, how you could extend Ethernet to another part of your home if there's no route way to get that in there just by plugging two devices, one by your router and one somewhere else in your home. And you can extend that to like eight to 12 different devices in your home really easily. So we have that. And if you're a science fanatic, I invite you to check out my YouTube channel Envision Space Networking, and start learning about what's being done. By the way, we're working on breaking a Guinness World Book record this year. So it is always a pleasure to be with you, Marcus, and I guess we got to say goodbye, don't we?
Marcus Hart
Yes, we do.
John C. Morley
Alright, well Goodbye, everyone. Have yourself a great weekend. Get out there. Do whatever you need to do to wrap up summer because Labor Day is coming up the next week and you want to get everything done so you can enjoy a great Labor Day. Get your kids off to school, maybe just put your feet up on whatever and just take it easy and actually do nothing. It's nice to do that sometimes, isn't it? Well, have yourself a great week everyone. I am John C. Morley, serial entrepreneur. I'll be back again another video but of course we'll be back Marcus and I on The JMOR Tech Talk show. That's next Friday night at 5:30pm. And that will be our first, Yes, Our first Friday, September 3rd. Amazing that that's happening. So definitely go ahead and check all that great stuff out. But remember, come back tomorrow on The Transform You Media Network and catch The JMOR Podcast Show. What time is that, Marcus?
Marcus Hart
That's 10am Central Standard Time.
John C. Morley
10am Central Standard Time. So that would be well, 9--
Marcus Hart
11.
John C. Morley
11 AM Eastern Standard Time. And for those of you that are on the Pacific wheelhouse, that would be 11--
Marcus Hart
eight o'clock.
John C. Morley
Eight o'clock AM. So we got to cover all the bases. And it's great because you can listen to it while you're in the car. And get those nuggets, we got lots of information for you. We're just getting started. Have yourself a great weekend. And we will be back next week. But come tomorrow and check out our latest podcast. Bye everyone. Good night.
John C. Morley
Thank you for tuning in to The JMOR Weekly Technology Show where we answer your questions about how technology is supposed to work and sometimes why you have challenges getting it to work that way. For more IT support and tips, just text IT support to 888-111. That's IT support to 888-111, and you'll get tips on technology. I'll see you next week right here on The JMOR Tech Talk show. Remember, jmor.com.