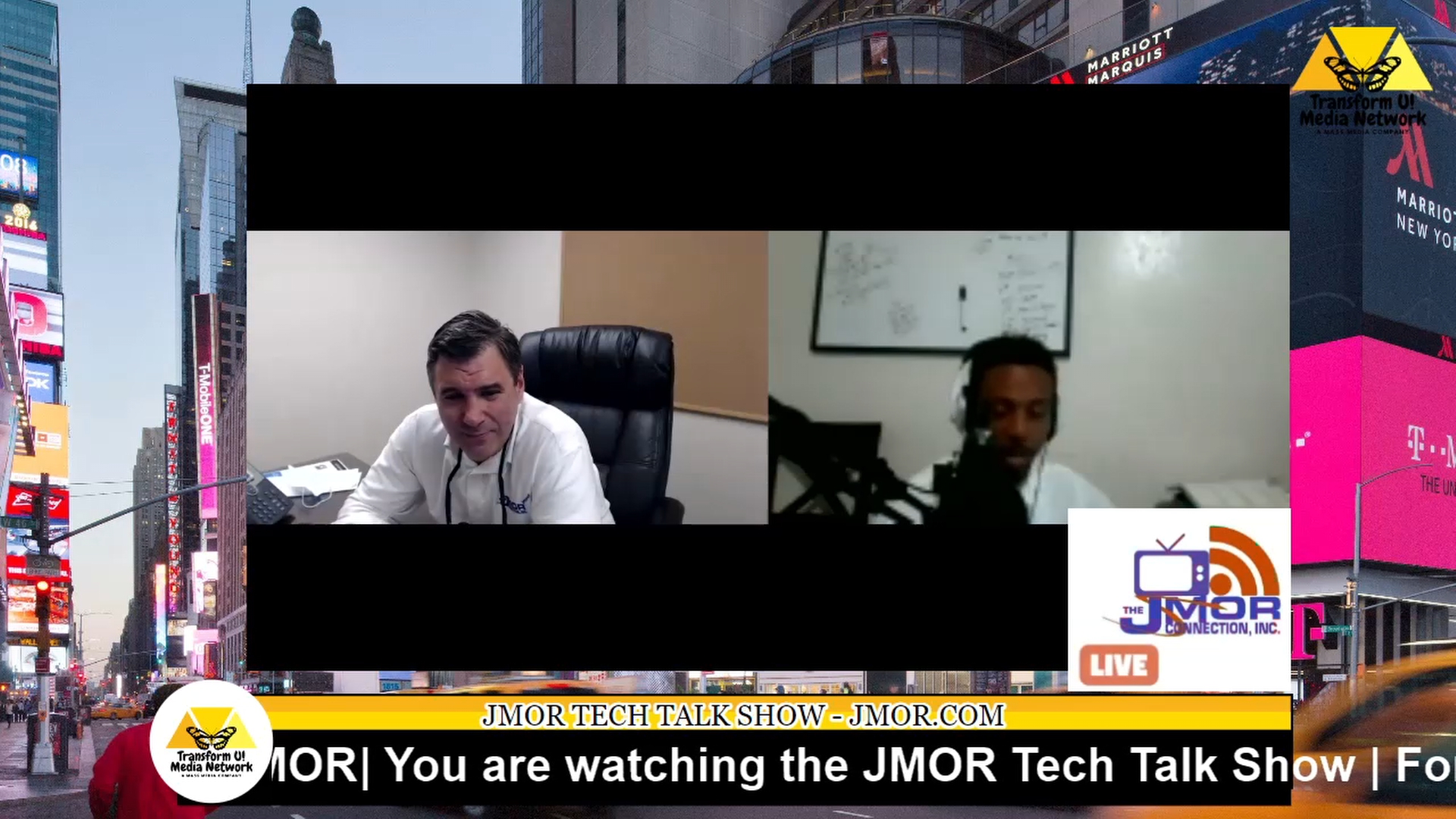 Click Here to Watch this Episode
John C. Morley: (00:10)
Hi everyone. I'm John C. Morley, the host of the JMOR Tech talk show and inspirations for your life.

John C. Morley: (01:03)
Good evening, ladies and gentlemen; this is John C. Morley, Serial entrepreneur. And welcome once again to another fantastic episode of the JMOR Tech talk show. We have an amazing show for you guys tonight, with everything going on around the world and, you know, COVID mask mandates being released this past week. A lot is changing in our world, and hopefully, it will be good, so I wanna share something pretty important. A new threat alert was just announced not too long ago. And it's called this, this brand new threat that just basically, it only released not too long ago. It is called a wiper. So what the heck is wiper? Well, it's malware and it's a new type of threat that is designed to go out in the wild and attack Ukrainian interests.

John C. Morley: (02:11)
The wiper was found by security researchers at a company called ESET and they estimate from the outfits revealing that malware wiper has been installed on several hundreds of machines within Ukraine. So they're still doing some more initial analysis to reveal what a wiper malware contains and to get the valid sign certificate belonging to an entity called Hermatica Digital based in Cyprus. And this is a pretty important news-breaking event. We'll have more information on this as we learn about it, but just to know that a specific virus let's say virus well, really malware in what we're curing at now has been concocted to go after Ukraine. I mean, that's just, that's bizarre. So there's not enough information to you know, give us everything about like APT 29 or nation-state activity.

John C. Morley: (03:17)
But we do know that this is gonna cause them some challenges. And the other thing that's important to know is that this is very similar to like a W32 kill disc.ncv exclamation point tr. And you need to make sure that you are aware of it. So the thing about it is it is definitely in the red zone and sources may find out that it could lead to an impact on the party's privacy reputation or operations if misused. And so this is a big problem and what's gonna be happening if we don't get the appropriate information. It could be something that stops things right now, but we're not sure where it's going, but we do know that it's something we have to watch.

John C. Morley: (04:27)
And because the threat level right now has not been defined. So there's actually what we call red, which I just told you about. There's an Amber level, which is limited disclosure, restricted to participants and organizations. There is a green level limit disclosure restricted to the community. And then there's white where disclosure is not limited. So this is white, but nobody knows what the heck this is. And it can be very, very deadly. So we're gonna keep both eyes focused on this new malware alert called wiper. We've been hearing a lot about Ukraine, not just from the US, but all over. And there is a new curtain that has been starting to descend across Russia, actually specifically Russia's internet online access by both Russian sensors and Western businesses as this war in Ukraine became a reason, moves that limited free access now to the internet.

John C. Morley: (05:35)
And this is a big, big problem because many companies are getting involved and something really small is now becoming a really big problem. So what do I mean by that? Well, that's interesting. We all know visas, MasterCard, American express, well, they've stopped accepting cards in Russia. Yeah, that's pretty bad, but an interesting thing about this is it, even though they've suspended their operations in Russia because of the ongoing invasion of Ukraine, the move affects cards that use the credit giant's payment systems and it's meant to further isolate Putin's regime and keep damaging Russia's financial stability. So again, this is in response to the Russian banks, as they're scrambling to switch to China's Union Pay, or they may have to start issuing cards co-badged with Russia's mere payment system and Union Pay.

John C. Morley: (06:42)
This is per routers and Russia's central you know, back control maintains Russian issues, visas, Master Cards, and they'll be accepted until their expiration date. So very interesting. And knowing that Russia's been declined by credit card companies with a visa and MasterCard now suspending operations in Russia over the Ukraine invasion, buying on credit just became a lot harder in Russia. And now the debit and credit cards issues in Russia. It's gonna be interesting that visas and MasterCards account for 74% of payments at transactions in the country. And that was in 2020. Pretty neat. So major impacts are gonna be seen by foreigners who unfortunately are not gonna be able to use their visa MasterCard for purchases in the country, whether they're online or they're in person they're gonna have some real serious issues, but you know ladies and gentlemen, it is not just visa, MasterCard. You know, what else is getting into the mix? That's right. Netflix! Netflix suspends its service in Russia not too long ago. And so Netflix has suspended its service in Russia and I quote per a company spokesperson. And earlier this week, Netflix temporarily stopped all future projects and acquisitions in Russia.

John C. Morley: (08:12)
This is serious. And I wanna quote exactly what they said, "given the circumstances on the ground, we've decided to suspend our service in Russia" per the Netflix spokesperson. So Netflix had previously stated that it had no plans to add state-run channels, to its Russian service, despite regulations that would require distributing state back channels. So very interesting that now Netflix is deciding to say, Hey, you know, we're not tolerating your BS anymore. And yes TikTok! yeah. Tiktok has suspended live streaming and new content from being uploaded to its platform in Russia citing the country's fake news laws, quote-unquote. So this video sharing giant said, and I quote, "it wanted to ensure the safety of staff and users as it assessed the new law." I think that's crock I never agree with where their rules come from because it just seems like they pull them out of like thin air and they don't have any, I don't know, truth to them, but they just come up with them and people are like, okay, I guess we gotta follow them.

John C. Morley: (09:31)
I mean, they don't have a choice who else is stopping operations if you're wondering, Microsoft! Yep. They're stopping sales of products and services to Russia. They're saying because of the sanctions and the cybersecurity concerns, Microsoft has become the latest company to now withdraw from the Russian market. That's pretty serious when Microsoft doesn't wanna do business with a country. Microsoft announced it is to suspend all new sales of its products and services in Russian, making it the latest and so far largest technology company to withdraw from the market as a direct result of Vladimir Putin's invasion of Ukraine, this is gonna get pretty serious, and they're gonna lose access to some very, very vital things. I like to quote Microsoft president and vice-chair, Brad Smith, and a statement they made "like the rest of the world, we are horrified, angered and saddened by the images and news coming from the war in Ukraine and condemn this unjustified unprovoked, and unlawful invasion by Russia" close quote.

John C. Morley: (10:45)
I think that says it right there. He also says, and I quote, "we believe we are most effective in aiding Ukraine when we take concrete steps in coordination with the decisions being made by these governments. And we will take additional steps as the situation continues to evolve" In a close quote Smith also went on to explain that Microsoft's most impactful area of work is the protection of Ukraine's cybersecurity. And that's been working and it continues to work and the Ukrainian officials defend against attacks from Russia-linked bad actors. So in the past few days, Microsoft security teams have acted against Russia's positioning, the destructive and disruptive measures on more than 20 government IT and financial services organizations that are housed in Ukraine, and defending against several cyber-attacks, targeting civilian sites. So I think what Russia is trying to do is knock out the infrastructure so that if they do that, they're gonna be crippled. And so now what's happening is they're getting a taste of their own medicine back by having their services terminated. So this is becoming, how do I say a big boomerang? And it's not something that I think Russia expected,

John C. Morley: (12:18)
But It's happening. And every day in Russia, it's getting worse and worse. What they're doing to Ukraine. I mean, this is just, it's pitiful. It's so pitiful that It's causing these people so much Frustration. It's a problem. And so when we think about what's happening I think it's a serious problem. I think it's a serious problem. And I guess Putin's not gonna get the message, right? He, he's not gonna get the message. Why? I guess it's because This came like out of nowhere. Do you know what I mean? It came totally out of nowhere. And so I think that's the biggest issue. It's a problem. It's serious. But why is it taking so long? I think the resources being accrued right now are a problem. And, you know, it's almost like it's worse than a Sandy because at least Sandy, you kind of know what's happened and everything is over. But with this, you don't know what's happening. You don't know what's happening. You don't know what to think, what to do. And it's a serious problem, serious problem.

John C. Morley: (14:27)
And each day it keeps getting worse and worse and worse. It gets worse and worse and worse. And nobody knows what to do. They don't. And you know, what's happening is it's starting to not only degrade but destroy their ecosystem of services that they need to be able to coexist with, to live, to operate businesses, to operate people's lives. And I think This has to come to a head sometime but is it gonna be tomorrow? Probably not tomorrow. Russia has not sustained enough damage to just back away. My question is, why did Russia just decide to go after Ukraine? I mean, I can't find a reason or any logic About anything they did or said that would make Russia wanna go after. I mean I want to know why this is happening? I think this is just so mind-boggling that Russia would just out of blue go after Ukraine. And you know, Russia's gonna start paying for this because as other services are restricted in their country, I mean, they started with the ability, they can't fire missiles. Now they can't take Visa MasterCard.
No TikTok. Microsoft doesn't wanna sell to them. Google's having some issues with them, giving them issues. I mean, this is a problem. It's a problem. And I think somebody needs to wake up because this is killing a lot of innocent people. And all these people in Ukraine were spellbound. They didn't expect this. They didn't know that some wild man was gonna come after them and suddenly start attacking them. You know what? This is like. It's like if you walk outside your home and all of a sudden, you know, the police come out, Looking for you wanting to arrest you. And you're like, what I do. I mean, I, I was minding my own business. I haven't done anything. I haven't bothered anybody. It's like that. This is just so bizarre that I can't even wrap my hands or my mind around it because there's just so much happening here. In Russian every day, it changes. But this war that's going on is something that is going to cause some problems. The thing I don't get is what triggered this action? What triggered it?

John C. Morley: (17:48)
That's just crazy. And you know, right now, ladies and gentlemen, I wanna let you know that they've lost over 350 people already since this Russian invasion. And now close to 800 people have been injured. And this according to The Nations not so long ago. So this toll is believed to be considerably high. And another ceasefire attempt failed. The Russian forces broke a cease-fire for the second consecutive day when they opened fire on Mariupol again forcing the port city to haul evacuations of civilians and thousands of people are being detained for anti-war protests in Russia. There's close to, I don't know, was 4,400 people across 50, 56 cities, including Moscow and Saint Petersburg. They were detained for protesting President Vladimir Putin's invasion of Ukraine. And again, this is according to the independent monitoring group that we follow. Freedom of press and freedom of speech doesn't exist in Russia. Western powers are in talks about a ban on Russia's oil and gas imports. And the U.S and its allies are having an active discussion about banning such imports from Russia while ensuring there's enough oil supply for the rest of the world. Now, the Biden administration, which you may or may not know is fearing that this could mean a problem for gas prices. We're already seeing them take a trend going up, but an energy imports ban would also deprive Russia of a large source of revenue. So I guess we're hoping to hit Russia in the pocketbook. So maybe they will do something. So TikTok has said that they temporarily banned Russia.
John C. Morley: (20:02)
Over 1.5 million refugees from Ukraine have crossed into neighboring countries in what the UN calls, the fastest-growing refugee crisis in Europe since world war II. This is pitiful. I can't fathom why is Russia attacking Ukraine, Right? Why is Russia attacking Ukraine? Is there a reason, you know, by air, land, and sea there, just putting together this devastation of an attack? And Again, so much damage has been done. So many people's homes have been destroyed. It's hard to understand this and what according to president Putin said back, I think it was on February 24th. He said that he claimed he was under a threat, a constant threat from modern Ukraine. I don't know why. Airports' military headquarters were attacked and tanks and troops were rolled in from Russia. Russia of course refuses to use the terms "war" or even invasion. Many of its leaders are justifying for. Where we're saying it's false or that it's irrational. They claim that the goal was to protect people, subjected to bullying and genocide and aim for the demilitarization and denazification of Ukraine. There's been no genocide in Ukraine. It's a democracy led by a president who is Jewish. This is so hard to understand why would they do this?

John C. Morley: (22:36)
Why? So in case, you guys didn't know, I want to quote Miriam Webster on this one because I think it's really important to understand, you know, what this means. Genocide is the deliberate and systematic destruction of a radical political or cultural group. In case you were wondering about that, or, you know, what was going on, but this is just terrible. And you know, it's got a problem because They set off this like Chain reaction. And nobody knows what to do. Putin was saying that he demanded that Ukraine can never join NATO, but that the affiliate turns the clock back to 1997 and reverses its eastward expansion. He's complained that Russia has nowhere further to retreat to do. They think that they're just going to sit back and idly by. He wants NATO to remove its forces and military infrastructure from member states that joined the Alliance in 1997. Wow. This goes way, way back about out a year ago president Putin wrote a long piece describing the Russians and the Ukrainians as one nation. And he has described the collapse of the Soviet Union in the December of 1991 as the disintegration of historical Russia. He claimed that modern Ukraine was entirely created by a communist Russia and is now a puppet state. I don't know. So NATO or NATO is a defensive Alliance with an open door policy to new members. And its 30 member states are admitting that will not change.

John C. Morley: (25:04)
There's gotta be more to this And no one's telling us, you know, what's going on. I think that's probably our biggest issue. You remember, we talked about one of the pharmacy giants. Well, there's another giant. CVS is now staking its claim in Metaverse. We talked about this before a new patent is showing that CVS wants to be meta versus the first pharmacy. CNBC reports and I quote "the drugstore giant filed trademarks last month to sell virtual goods NFTs and provide healthcare services. So the filing shows CVS intends to bring services. It provides in-store and by its telehealth platform to the Metaverse including nutrition, wellness, and counseling. And I don't know. I mean, we saw Walmart kind of get this. Now CVS is jumping on board. What's next? I mean, is Walgreens gonna step up to the line next? I don't know. So Metaverse is this limitless supposedly online community where you can have avatars, where you can purchase things, but you can have a community anywhere from a virtual office space that people can visit. You can offer services online, but you can have all the tools and resources you need to be able to generate, maintain business, have connections, and have meetings online.

John C. Morley: (26:44)
But is our country ready for this? What caused the trigger was when we saw CVS file all these patents. So we know they're doing something and we all know that NFTs are gonna make somebody some big money. We know that. We don't exactly know who? We know that you're paying for something in some cases that don't even have a physical representation. It's just virtual. I think Metaverse could either expand or could collapse. Now, I mean that because metaverse is this new kind of society where you're living a life and you're hiding behind an avatar. I'm not crazy about that. I'm not crazy about that. Why? I think it's because there's no way to validate this. This almost seems like the crypto world and remember where it was going when it started, but it's kind of pittering out and you don't see as much or hear as much talk about crypto being like the be-all-end-all a few years goes, oh, that's the multimillion-dollar project you gotta get involved with. Now, Nothing happens. And the IRS is trying to get involved because they Found out it was gonna be lucrative. So now they want to get their money. That's always how the government is, but I wanna know what is it that makes people drawn? What? why do people want to buy an NFT? That,s really what I want to know. So it uses the same technologies like Bitcoin. They enable a real market for basically digital works of art and they can be sold for lots of money. So the question you might be saying is, well, why are people buying NFTs? Well, there might be one, there might be 10. And this digital copy, if you will, or digital original can have a value that keeps exploding very similar to, you know, you might have heard of like, you know, Derek Jeter when he signs a football, right. Or Peyton, when I'm assuming it signs baseball, when Derek Jeter signs a baseball and Payton Manning signed of football, I believe this is something that is a perception. There's no value to any of this, but we can assign value to it. We can make an NFT worth a lot of money. We can make an NFT worth millions. And if I'm the only one that has that NFT and other people want it, then yeah, it can be valuable. But if there's no value, if people don't understand what an NFT is, then why would you want it? So I think we gotta learn a little more about an NFT and understand the difference between reality speculation, right? And the truth. I also believe that NFTs are something that people wanna buy because it's very different. Let's think about this for a moment. You don't owe any of these animated let's say computer things that are shared over the internet, whether it's monkeys, whether it's giraffes, whether elephants don't matter what it is.

John C. Morley: (31:04)
Do these JPEGs have value? that they can cost thousands of dollars or millions of dollars. So people wanna get rich by reselling them and people have money and want to be included in the exclusive rich people club is what, you know, the claim is. And this might sound unconventional, but hands down a lot of people would rather go for blue-chip art than just anything. So I think there's gonna be a dichotomy of things that are gonna be on the market. And we have to understand what is it that we want and what is it that somebody else could want? Because if we create something and we want it, but other people don't want it, well, it's gonna be a waste of our time. It's gonna be a waste of our money. I mean, I'm just saying, I'm saying this because we know what happened with Bitcoin. It kind of took a tank, are NFTs going to be trustable. Are they gonna be reliable? Are they gonna have a value that's preserved much longer than a Bitcoin? Are they? I don't know. But one thing is certain, if there's one copy of something and it's made and it's digital and it will never be produced again, that could be worth some money. But I do think it's gonna take some time for people to buy into this. You know, this technology.

John C. Morley: (32:40)
I think People are always looking for something to make a fast buck, but most of the time people do this, they spend all this money, and then they're usually pissed off with themselves because they didn't make anything. They just wasted more time, effort, and money, And they don't realize what they're doing. Why does that happen? It happens because so many people in our market just look for something that seems to be good, but they don't do the research to see, well, is this something I should do? Or is this something that I should not do? And that becomes a little bit of an enigma. People wanna be on that train first. Right? But not a lot of people wanna get on a train. I've said this before that's in the station and stopped. They'd rather get on a train or a moving vehicle. That's going very fast that they can risk their lives to get on. See, that's the part that blows the water. Nobody wants to get involved when something's at ground level, but they wanna get involved when they see it rising.

John C. Morley: (34:00)
Does that mean that people don't have insight? They don't have forethought. I don't know, but I feel that I need to know a little more about metaverse and what NFT is gonna do. And I'd like to see a trend on NFTs. Are they being sold? and what is an NFT being sold for? I mean what does anybody know? What's the most expensive NFT? What is the most expensive NFT out there right now? Well, there is something called The Merge, you know which merges 91.8 million.

John C. Morley: (34:45)
That's pretty interesting. So the artists created a GIF format NFT and saved it as a guy, which became one of the most expensive in 2021 selling for 1600eth in early December through the digital collectible market. And then it was meant by about 7.8 million dollars. But The Merge right now, as I told you is worth 91.8 million every day, the first 5,000 days are worth 69.3 million. The human one is worth 28.9 million. Crypto punk is 11.75 million dollars. And as I said, the right click and save as a guy is worth 7.9 million dollars. I wonder if there's a tax on there, but they probably don't care. So this is something that probably has no expiration it's a good day, one or day a million days. There there's no issue because it's always preserved. This is wild. We're gonna explore NFTs more and more as we, you know, go on with the show. Ladies and gentlemen I always enjoy being with you. I hope you've enjoyed tonight's show. We'll be back next week with another great JMOR Tech Talk Show.