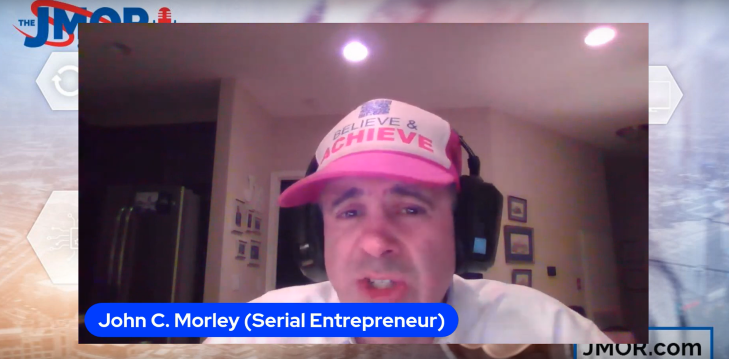 Click here to watch this video
John C. Morley (00:09):
Hi everyone. I'm John C. Morley, the host of the JMOR Tech Talk Show and Inspirations for Your Life.
John C. Morley (01:01):
Hey guys, it is John C. Morley here, serial entrepreneur; welcome to the JMOR Tech Talk Show. And by the way, happy belated Thanksgiving. For any of you that didn't catch the last show, I wish you happy Thanksgiving. So hopefully, you didn't have too much pie. And my one request, and I hope you guys all did it, was to unplug from technology at your Thanksgiving dinner and plug into your family. You know, so many people are doing this. They're like, their heads like buried into their phone or any technology and like, yeah, I get you, and we laugh about it. But I was writing an article just a while ago, and something very interesting occurred to me because of the University of California. And they were saying that you know, when teens and other, let's say adults have their social media open, and as they go to their social media, like, I'm just going to do right now, when you see the heart, okay, the likes, like on let's say Instagram when you see that, or if you're on TikTok, and let's say you see all those follows, or you see those interactions, it causes a certain part of your brain to release the dopamine, and it's like a natural feel-good drug.
John C. Morley (02:34):
So, it's cumulative, and you want to keep doing more of it. The other thing that's interesting is that those that actually this came from the study that actually would like people's content and their peers would look at it, they would actually be inclined to like the content regardless of the content, which I call is very interesting. So, I hope you made a choice this Thanksgiving holiday to unplug from technology. I hope you'll do that during your Kwanzaa on your Christmas, whatever you celebrate in December because I think it's a great way to really be with your family. So, thank you so much. We have another amazing show for you guys. Of course, you know that, right? Another amazing show. How many of you out there know Taylor Swift? All right, well, the Taylor Swift twist, and I'm not talking about a Taylor Swift dance.
John C. Morley (03:32):
Well, what am I talking about, then? Will Congress hold a hearing on the Ticketmaster problem after the Taylor Swift little challenge they had? Apparently, singer Taylor Swift had arrived at the Toronto International Film Festival in Toronto, Ontario, and Canada, which was back actually in September. And so, Washington in November had the US Senate antitrust panel who was holding a hearing on the lack of competition in the ticketing industry after Ticket Masters problems last week, managing the sale of Taylor Swift's tickets. And this is from Senator Amy Klobuchar, chair of the panel, which was just said recently. And so, you know, they have high fees, site disruptions, cancellations, and customers are experiencing what Ticketmaster is about. They're a dominant player in the market, and they charge whatever they want, and people pay for it.
John C. Morley (04:46):
And so, according to Klobuchar, and I quote, we will hold a hearing on how consolidation in the live entertainment and the ticketing industry harms customers and artists alike. I think that is pretty cool. I think it's really cool what's going on. And so, when we think about, you know, what happened, it was a mess. It was ultimately when I say a mess; this was a mess. I call it the Taylor Swift twist. But really, it was a ticketing nightmare. Kidding nightmare. You know, and just for any of you out that you want to know, if you were to get seats, okay, in the front row when Taylor Swift is performing well, you'll pay just about $11,000 before their fees.
John C. Morley (05:50):
So, the question comes down to who owns Ticketmaster Live Nation Entertainment? It's an American global entertainment company that was founded in 2010, and following the merger of Live Nation and Ticketmaster, the company promotes, operates, and manages ticket sales for live entertainment in the United States and internationally. So, you probably might be saying, gee, what was the ticketing problem, you know, at Taylor Swift's concert? Well, it was; when I say it was a mess, it was a mess. Millions crowded this presale for Swift's long-awaited tour resulting in crashes, prolonged weights, and frantic purchases, and a Ticketmaster had canceled general sales citing insufficient remaining tickets. I mean, how the heck do you manage something like that and not have the proper technology? I mean, that's just like a no-brainer, right? Why would you? That's like me going into the pool industry and not knowing anything about pools, chemicals, or where to get supplies from. So, Taylor Swift's fiasco led to calls for Ticketmaster and Live Nation two. Guess what? Breakup.
John C. Morley (07:28):
So, fans of Taylor Swift encountered numerous issues while trying to obtain tickets to the singer's latest tour by Ticketmaster. And the complications became more agitated as calls from activists and politicians for the Department of Justice were coming on board to investigate the decades-old merger of Ticketmaster and Live Nation. Ticketmaster and Live Nation have been accused of abusing their power by hiking up ticket prices and adding arbitrary fees to the purchase. So, activists and lawmakers are renewing calls to split Ticketmaster in Live Nation. And after the ticket sales fiasco for the Pop Superstar error, it was a disaster. After merging with Ticketmaster in 2010, Live Nation has faced long-standing criticisms about its size and power in the entertainment industry, and people echoed their concerns through many calls and emails, et cetera. So, lawmakers are calling on the Justice Department to investigate this company. And according to some of the local trends, a daily reminder that Ticketmaster is a monopoly, according to I quote, Alexandria Ocasio Cortez, Democrat of New York. He wrote in a tweet not too long ago. He also said Its merger with Live Nation should have never been approved, and they need to be reined in. We need to break them up. Similarly, Senator Richard Blumenthal, a Democrat of Connecticut, called Swift's Tour, and I quote, a perfect example of how the Live Nation Ticketmaster merger harms consumers by creating a near monopoly.
John C. Morley (09:36):
I've long urged the Department of Justice to investigate the state of competition in the ticketing industry; he had added, also saying that consumers deserve better than this anti-hero behavior. And so representative, some Live Nation did not immediately respond to CNBC's request for comment. Many complained about long wait times, confusion, whether they're verified fans, non-verified fan inability to get tickets, and capacities. And so, tickets went from $49 to $450 with the VIP packages, starting at $199 and reaching $899. Now, the secondary market prices can be seen ranging from $800 to $20,000. So, the Taylor Swift portal was not going very well for many of the swifties that wanted, and Republican Bill Pascrell, I should say representative Bill Pascrell excuse me, a Democrat of New Jersey, wrote in a tweet I'm hearing about the site crashes and fans waiting for hours. You think all these services and convenience fees could go to a working website. Activists have key pushing to the pal that Ticketmaster and Live Nation are abusing their market power and calling for a company to be broken up immediately. Despite promises of increased competition and consumer benefit, they now control 70% of the ticket market. So, you might be saying to me, John, how much does master charge for fees on tickets? How much?
John C. Morley (11:33):
Well, it's very hard to understand the fees, and there's no real website to explain. So, if you wanted to know how much our Ticketmaster fees are, I don't have a great answer for you because they have all these rules, and you have to go through this lengthy checkout process. And everyone is definitely mad at Ticketmaster right now. The user data showed that the average ticket price is over $600, and one seat goes for more than $3000. So, Ticketmaster apparently is charging $55 in 80 cents service charge on a $75 ticket. That's extortion. What made this a debacle was that the tickets for the individual days were $29 plus $11.75, and the fees totaled $40.75, $40.75 times three. That's 122 times 25. One person had paid over $40 per ticket to see the MMJ Wilco Bob Dial Show and saw the actual ticket stub said $22 and 50 cents, meaning they paid almost double per ticket, inconvenience fees.
John C. Morley (13:14):
I don't know; I think it's a little bit crazy. And the question is I saying, you know, does, let's say you were a Yankees fan, does Ticketmaster sell Yankee tickets or, well, you can find Yankee tickets, yes, on Ticketmaster. So, I think we're really coming down to the fact that they're abusing their power. And now, because it was a major celebrity, it's going to start to get a little bit warm in the ticket booth. So, we'll keep you updated on that. But I've always known people like Ticketmaster, and I even remember VIP Nation going to a concert that I had bought these special tickets for so that I could actually meet with the band before time, and it was like an extra 200 bucks, but it was a real rip-off because you only got to see them for like 30 seconds.
John C. Morley (14:14):
It was really a rip-off. All right, we'll keep you posted on that, don't worry. All right. So, there are many; I should say several, safety alerts at Beyond Meat Plant. Why? You might be asking. Well, that's a very good question. According to Bloomberg reports, there have been multiple food safety issues at Beyond Meat Market, located 45 minutes just outside of Philadelphia. And this is all by anonymous sources that reported to them. Very interesting internal documents say that listeria and foreign materials were found in products made at Beyond Meats Pennsylvania food plant, and photos from inside the facility had shown mold spills and unsafe equipment usage. A food safety attorney who viewed the photos ranked the factory an eight on a 1 to 10 scale, where ten is filthy. I didn't want to think about even buying that food, let alone eating it.
John C. Morley (15:20):
So, of course, they reached out to a Beyond Meat spokesperson, and they noted that the Pennsylvania Department of Agriculture found no instances of non-conformance. And I quote with regulations during inspections in March and September, okay, well, what the heck happened? Now in October and November, the Department of Agriculture later clarified that it visited the plant in September to collect an unpaid fee, not to conduct a full inspection. So that tells me something right there is a big problem. And so, just looking at these photos from the plant, they're terrible. They are, when I say terrible, they are literally terrible, ladies and gentlemen. I don't have another way to tell you. They claim it was normal chaos associated with rapid company growth. I'm sorry. I don't care how busy you are; you need to ensure that you are running a safe environment; that's paramount. And so, this comes down to financial management. I mean, this comes down to a lot of things, but I guess the real question I have is, who should be left holding the bag? Is it management? Is it? I mean, who is it? And so, I know that this is probably going to affect their sales. How many of the company employees are happy to take home and consume their products?
John C. Morley (17:01):
I could tell you probably not many at this company. And I have to say that the latest problem at Beyond Meat is the filthy plant and mole, as we said, the listeria and other dangerous conditions. So, this is a very big problem. And one lady said I used to love these burgers until I realized how unhealthy they were. Just because it's plant-based doesn't mean it's good for you. I've upgraded to free-range bison, which my body actually recognizes as real food. Another person said I wonder if one of the big meat companies sabotaged them. The big meat companies are very tight with the government. So, anything's possible. These pictures are a pal three comparison to animal slaughter environments. And in the antibiotics that they put in through the pumps into the animals and what they feed them, it's no matter that this is what happened.
John C. Morley (18:00):
They were doomed to fail from the start. People that eat meat want the real thing. And people that don't eat meat shouldn't be interested in the first place. Now that this news is out, I'm expecting a rapid demise of this product. I mean, I think this is really terrible. I do not eat these types of products. They're full of chemicals, and goodness knows what, I'm a vegetarian. Why would I eat something that tasted like meat? Okay. They were until the corporate agenda saw the video of Beyond Meat explaining their process and how hyped we all were to buy it; Tyson bought them out. And look, now beyond meat has an issue. What a shock; BMS problems, and Tyson has one less competitor.
John C. Morley (18:59):
I don't know. When building a new industry, whether you agree with the alternate or preferred meat, one person says it's critically important to do the small things, right? Food safety and regulatory compliance are often things. Investors don't spend enough time understanding. You know, whether you shop at Costco, BJ's, or any other supermarket, particularly the larger ones, they're very obsessed with food safety. And I think if more companies were, we wouldn't have these issues. So, you might be saying, me, John, so, who owns Beyond Meats now? So, beyond Meats is a Los Angeles-based producer of plant-based meat substitutes, and they were founded in 2009 by Ethan Brown.
John C. Morley (19:54):
So according to an article last year, they had stated that Beyond meat hires Tyson Foods executives as it prepares for fast food expansion; beyond meat has poached two industries, veterans of Tyson Foods for executive positions, and Doug Ramsey, who will assume the role of Chief Operating Officer, spent three decades at Tyson overseeing its poultry at McDonald's business. His experience with fast food giants will be an asset for beyond, but are they getting too hung up in the growth of the company and losing sight of what keeps a company safe with technology? See, I think that's really the whole issue, okay? I think that's where our problem comes in: we're so concerned about the end result of the money that we don't give a darn. So let me give you a quick little story that happened to me many years ago.
John C. Morley (21:09):
I was actually at a deli, and I believe I was out in, I think it was Minnesota, but I'm not sure where, but I was in Minnesota, and when I was there, you know, I was probably, I think I was probably like in, maybe I was like in high school, and it was like in the summertime. And so, there were people at the deli, and we didn't really think much about people wearing gloves. I didn't make a big deal of it. I figured people would know what they were doing. Anyway, I went to the deli, and I got a sandwich. I just got it, and I think I got a Philly steak sandwich, right? And he didn't have gloves on. I didn't say anything. And I thought about it, and I was like, well, I'm sure he washed his hands.
John C. Morley (21:55):
And so, I had the sandwich, and then about three, four hours later, I started getting pains in my stomach. Then, regurgitating food and then obviously excreting food as digestive waste was not very comfortable. And so, I wondered what happened, and I figured it out. You see, bacteria had infected me. Now there could have been bacteria on their hand on the knife. And so now, whatever, I see somebody and the deli or any food environment, and they're touching the food that I'm going to put my mouth. Now, I don't mean if it's in a bag; I'm saying if they're touching the raw food and they're handling me, they better have gloves on. If they don't, I'm going to say, hey, could you put a pair of gloves on first? And you have a right to do that. If somebody gives you an attitude, tell a supervisor because your health is so important.
John C. Morley (22:55):
This also happened to me. I have to tell you, at Disney World, I was at a famous restaurant, whichhanged my view on wanting to go back to Disney. I went to a restaurant called Victorian Alberts a few years after that. I was there for a convention business convention. And everything was great at the convention center. Everything was great. The food was to the nines. But then I decided I had three more days left. I wanted to go to Victoria Alberts to get a massage and try this restaurant again. Cause I love this restaurant. So, Victoria and Alberts are one of their top flagship restaurants where you have to call, make a reservation, and then they send you basically an invitation in the mail. And if it's too late, they basically do it just kind of, you know, they basically deliver it to the hotel.
John C. Morley (23:47):
So, they kind of like, you know, just bring it to the hotel. So, it comes that day. And so, I get there. First of all, they're extremely rude when they're trying to seat me; their times were all messed up. And then, when I got there, the meal seemed very good. It was a five or seven-course meal. I got back to the hotel after a few hours. I was really sick. The next day. I hadn't, I knew what had happened, and I wanted to complain. And all they kept telling me was that, please, sir, you need to, we need to take you off stage? I knew what that meant because I took Disney classes before business classes. They didn't want me on stage. They didn't want me, and even though I wasn't nasty, I wasn't yelling. They didn't want my story to be heard by somebody else. Cause it might influence them. It might hurt their business.
John C. Morley (24:40):
All I have to say is that companies like this make one mistake. Just one mistake can scar them for life. So, when you go out, whether it's to dinner, wherever you're going and somebody's serving you naked food, where they're touching the raw food with their hands, make sure they have gloves on. Okay? If you're in the food industry, ensure you get certified and know how to properly handle food. If you're working in a restaurant and you're managing people, make sure you get their certificates to make sure they've gone through it, and they have to do it every so many years. So, you might be asking me, John, how many years is a food safety certificate good for? And that's a great question. So, in the state of New Jersey, a food safety certificate is usually good for three years.
John C. Morley (25:44):
You know, they make some changes to it and whatnot, but that's pretty much it. So, I thought this was really important, letting us know that, you know, contaminants don't just enter through bacteria. They could enter through other objects that would be unsafe, that would get into the food, okay? And also, it could be bio-contaminants, right? Biological, like would happen here. And so, I feel we need to be more conscientious of how we buy our meats or get served. Do we know the difference between pre-packaged items as opposed to items that are not packaged? And you know, when somebody hands you a sandwich, they should have gloves on if it's not in a package already sealed. You go to, let's say stadium, and they serve you a hot dog; they better have gloves on. You go to a deli, and they're going to cut your sandwich; they better have gloves on.
John C. Morley (26:50):
Do you get my point? All right. I just want to emphasize the point that food safety is not a luxury. It is a necessity. It's vital for your health. All right, let's jump on to another topic. I think one that's going to be really interesting for a lot of you. We all know attorneys, and we know how they bill, right? They bill by the hour, by the quarter of the hour, for email, and for you visiting them. They bill for phone calls, right? So, pretty cool. Well, let's imagine that doctors may soon be billing like attorneys. What do I mean by that? Well, let's imagine that doctors will now get paid to respond to patient messages. According to the Cleveland Clinic, not too long ago, there was a little bit of a debate that got heated, and they would start billing insurance companies for certain messages using their MyChart system that would require clinical time and expertise to answer. So, for patients who haven't met their deductible or whose insurer won't cover the cost, the fee for sending a message could run $33 to $50 per answer.
John C. Morley (28:15):
Who thinks they shouldn't be compensated? It takes time. I understand. And I think that's fair, but the insurance should cover it. And so, I get that nobody works for nothing. I get that. But then we need to revamp how the insurance is being done, right? I don't know; at first glance, it seems like a big deal, and the Cleveland Clinic would start charging for many clinical messages via their patient portal. But I'm not sure how many private payers will reimburse for 5 to 10 minutes in a call. I'm not sure. I think a lot has to change, but if it has to dip into people's pockets, that's a problem. I definitely think they should be compensated, but this might not happen now; what I see happening is in part of the care of service, they might bill into follow-ups, and if they're not used, then on the next bill, they could be deducted or, or what have you.
John C. Morley (29:21):
But I see that's how it's going to go. And so, this one lady who's an MD, and I quote, said, I saw the Cleveland Clinic would be charging for MyChart messages. And I have to comment on this because portal messaging has been one of the pains of my career. The other one is the terrible EHRs all around. And it's not the patient's fault, okay? Healthcare companies advertise portal messaging as a perk to draw in more patient customers, but it shouldn't be there to lure them, to make them spend more money. See, that's a problem, ladies and gentlemen. And we all know that the medical industry, I'm not talking about the doctors; I'm talking about the people that have no clue about the medical industry. They're just looking to figure out how they can pull money out of you. They don't care. If they could look at you with one eye closed and they could get a bill for $200, they would do it because the medical company says that's what they can do. I mean, they were charging for virtual visits. So, the question is, do insurance companies pay for virtual visits?
John C. Morley (30:39):
Most insurance providers cover at least some form of what they call Telehealth. And you can basically see if you're covered in that. So, does insurance cover remote patient monitoring? Remote patient monitoring is most commonly paid for by insurance coverage and government health care such as Medicare. So, for Medicare patients, practitioners bill Medicare to be reimbursed for remote patient monitoring services, and practitioners can bill Medicare by submitting CPT codes for various services. So how does Telehealth work with insurance? Well, Telehealth coverage will pay for doctor visits that are done remotely. And this can be done over the phone via video call or through some other remote service. So, do Telehealth visits have copays? Copays, as you know, are a cost. But they'll be wave right now currently for Telehealth visits. And this is just for a short period, and then they will be reinstated.
John C. Morley (31:43):
So, everybody's kind of playing this game. So how do I know if my insurance covers Telehealth? Contact your insurance provider and ask them if they cover reimbursement for any Telehealth services. Okay? So, let's go over what the dos and don'ts are with Telehealth. Don't jump into a session without testing first. Do train all your staff on Telehealth technology and do check your background. Do use proper lighting. Do keep an eye on your camera placement. And don't be afraid to show your pets, and don't lose power. How are doctors paid for Telehealth? Or right now, Telehealth physicians are often paid by consultation rather than a yearly salary. In many cases, Telehealth physicians are paid by the hour or by the number of emails or texts they send out to their patients or other healthcare providers. So, you guessed it; when they respond to you for an email message or a phone call, it's going to be categorized under Telehealth.
John C. Morley (32:47):
As long as the health providers are all together and there's a standard for this, I think it's fine. But if we start having, well, you know, if it's this way, remember how we had in-network ad network? Well, sorry, we don't cover that kind of messaging. Well, why not? Well, because it's not on our platform. It's not on Citrix, or it's not in our cloud. I mean, there could be a whole host of BS reasons, all because they're looking to get more money, okay? That's really what it comes down to. So, I bring this to your attention because this is something that is going to become more prevalent. The last question I know many people want to ask me is: Will health insurance companies stop paying for Telehealth?
John C. Morley (33:38):
So, CMS, physician fees schedule, rule cuts, payments, et cetera. And Telehealth reimbursement it's supposed to be past 2023. Now, the Biden administration's going to extend Medicare reimbursement to physicians for certain Telehealth services through the end of 2023. Is Telemedicine going away? It's grown quite a bit in the United States since the beginning of covid, and it's to remain an integral part of medical care. Telemedicine has been well received by many patients and healthcare providers but remains a little bit of an enigma. And the challenge of, are we getting covered? Are we getting paid? What hoops do we have to jump through? So many insurance companies have something called their Telehealth policy. And there are just so many, let's say, roles of red tape that a practitioner has to go through. That's why they have an office manager because they don't have time to go through all this.
John C. Morley (34:51):
Will they pay? Will they not pay? There's somebody goes, I mean, I think the government just thinks that the doctor has nothing but time to waste on whether they're going to get covered. So, they got to hire an office manager that understands Bill. All right? So, we'll keep you in the loop about that. But definitely ask your doctor or your insurance provider if I am covered for Telehealth? And if I'm not, maybe it's time that you switch to another healthcare provider. All right, so we've been talking about the iPhone, as many of you have heard, and I am not an opponent of getting the new iPhone 14. Have the 13 now; I don't want the 14; why? It doesn't have the USBC charging port on it, and I don't want to own another phone. Now that the standard is being adopted, that's not going to have a USBC charger report.
John C. Morley (35:43):
I'm tired of these games with the lightning, mini, and micro cables. I mean, it's just, it's getting crazy, right? I mean, it's just nuts. So, I'll be happy when I get my new iPhone 15, which will be out next September. So, by the way, the iPhone 14 s have become extremely difficult to get. So just a little bit of an update there. All right? So, the question is, the question, really, are iPhone privacy claims right now? They're under some big storms of fire. And you might be saying, John, what? What do you mean? Well, the iPhone is under fire for their privacy. And so there had been concerns about this a while back. And Apple's privacy policy pledges that data collected from an iPhone user can't be used to personally identify them, but researchers are now starting to question and doubt that.
John C. Morley (36:55):
And a study by a software company. Mice found that the iPhone data obtained by Apple includes permanent, unchangeable ID numbers that are directly tied to personal information underlying users' apple IDs. And we all know the Apple ID can link to your full name, birthdate, email address, and more. Now, while Gizmodo notes that it's possible Apple could serve the links between data types, the company hasn't commented on this right now. And frankly, I don't trust Apple at all. Apple, your privacy isn't private. They used to say that they were so great with this and so great with that, but all they're doing is just conning the public. Have you ever run a wire shark on your iPhone? It may shock you. Apple is in private; no single device talks back to its main control planet or mothership as much as the Apple device does.
John C. Morley (37:57):
Data include your location, what you're browsing, who you're talking to, and who you are messaging? What, what are you saying when you're saying it? Where are you saying it? Which app are you using? Do you get the idea? So, according to this general research, running a wire shark on your iPhone, as well as research conducted by me, has been publishing findings that the individual link phone uses the data, and it's being sent to Apple. Now the jobs world has begun encrypting the scent data, but it's still using a unique customer ID that, unfortunately, may be linked to each user's device and data in their sessions. So, security and privacy are a concern for organizations. If you use an iPhone, you may want to consider other ways to protect your data. Sending it back to the mothership isn't probably new to you, but claiming that their product is all about privacy, well, that's just for the birds.
John C. Morley (39:03):
So, this is why Well enforced data protection and privacy laws need to be established. Now, one of the consumers is skeptical they should be. Apple has created, and other companies have done it too, a false facade, making people believe that they're safe; they're making people believe that they have that nice warm, soft blanket that's safe to lie on. In actuality, it isn't. Using Apple won't save you from being tracked even if you opt-out or switch the personalization options off, despite the company's pride in itself in protecting its users and privacy, there's a loophole in the system as Apple's definitions of privacy and tracking are two completely different things. Tracking is only considered a violation with a third party, as the company, apart from Apple, is involved. Hence, no matter the device's settings, the amount of detailed analytics that the app sends will stay the same.
John C. Morley (40:06):
It seems quite interesting that other companies use the exact same language Apple uses in its consent-requesting information, such as on the app store. So, what does this mean? It means that Apple cannot be trusted. That shouldn't be a surprise to you guys. So, we need to have rules in place. We need to have a standard; we really do. So, the Apple device is nice, but make sure you deploy your own encryptions between applications data and be careful what you share. Now, I'm not saying your banking information's getting shared, but they do know that you're going into your banking application. They don't know what you're doing. So always use two factors. And when you're in an application, don't presume that these basic apps are encrypting your data because they're probably not. The banking ones, I do presume, are okay, but these other, let's say social chat applications. They might be selling them out to the highest bidder.
John C. Morley (41:15):
All right? And, of course, I have one more story to share with you guys. We've got a lot of great stories, and you know, privacy is always a concern to me. I'm sure it's a concern to you, but the question is, why doesn't anybody do anything about it? I think the real reason that people don't do anything about our data is that it hasn't caused enough of a problem yet. That's the real reason. So, the government is taking another swipe at robocalls. What's going on here? Well, not too long ago, the federal government just took another, I'll call it to swipe two, at illegal robocalls. The federal government took another swipe at the legal robocalls just recently, and it moved to block a voice provider from the entire United States phone network for the very first time.
John C. Morley (42:15):
Kudos. Federal Communications Commissions, commutes, kudos. The order by the FCC targets global UC, a company that claims to serve more than 200 businesses globally with a low cost of international calling services. According to the FCC, the Global UC's unprecedented termination comes after it failed to comply with the US regulations aimed at countering illegal robocalls. Again, Bravo. While the FCC has previously issued threats to some providers warning they could be blocked or suspended from the US phone network over repeated failure to comply. Recently, the markings now of this first time the agency has followed through. So, by the following through, by them now setting an example, like you remember being in school and the teacher always had to make an example of a student, and then suddenly everybody shut up or suddenly everybody paid attention. The global UC didn't immediately respond to a request for comment.
John C. Morley (43:14):
The SEC's order effectively serves the global UC's access to the US phone network by forcing other US voice providers to stop doing business with the target company and prohibiting the other providers from accepting phone traffic from the global UCs. So, an FFC official had told CNN that depending on how a voice provider's business may be configured, such an order could amount to an effective death sentence for the company. So again, I think we're on the right track. And the question you might be asking is, what are the new rules for robocalls? I think they should just ban them. The new rules require gateway providers to participate in robocall mitigation, including blocking efforts, taking responsibility for illegal robocall campaigns on their networks, cooperating with the FCC enforcement efforts, and quickly responding to efforts to trace illegal robocalls to their source. Now, I have to tell you, and I'm not going to mention the name of the company, but many years ago, there was a company that had been soliciting us, and they wanted us to make calls. Basically, they called them notifications, but they had the worst policy in the world. There are no refunds; there's no customer service. We're not responsible for anything. And use our network at your own risk.
John C. Morley (44:37):
Why the heck would you even want to be part of that network? That's what I'd like to say. So again, I tipped my hat off to the FCC because what they're doing is amazing. Now we need to clamp down on the freaking spammers. You know, we need to clamp down on them. We need to start getting into the phone networks. What do I mean by that? Just a week or two ago, I got a call, and my bill is current with my cell phone provider.
John C. Morley (45:02):
And they told me that if I didn't pay the bill of x thousands of dollars, which was ludicrous because I didn't owe them anything, I would be terminated within an hour. So, I called my local phone company and said, this is preposterous. You guys have a lot of nerve. And they explained to me that it was not them. They used the same headers that they did. When the company would call me, identify the, let's say, the key tones of their audio logo. Something needs to be done about companies impersonating other companies. I think what really needs to happen is a system needs to be put in place so that we know the call came from that provider. And I think this needs to come from the FCC so that when you're in a telecommunications industry, and you're making that call, there's no way that call can be s spooked.
John C. Morley (45:56):
I think that's what I'm trying to say, but I am floored with the progress that the FCC is making. Hey, ladies and gentlemen, I hope that you guys had a spectacular Thanksgiving, and I hope you'll continue to choose to unplug from your technology maybe on the weekend and spend some time with the family, whether that's board games, whether that's going out to say Santa whether that's you know, going through one of the local Christmas or Holly Ice caverns. We used to have one by us that I loved to go to, and just about two years ago, they closed up. I loved it because it was this outdoor garden store, and it had been around probably since I was born, and it was just so amazing to go there, and it was free. And then later on they charged, but still, it was then a third-party company, but then they just, they couldn't make it because I think the real problem was, they weren't offering enough value.
John C. Morley (47:03):
They weren't changing it up enough. Maybe they needed to get advertisers in there to help pay for things, whether that be Energizer or Duracell or different things in there. Maybe they needed to put things like Pillsbury and Nestle if it was baking. Maybe they needed to get creative. I don't know. But I think that would've helped. Hey, ladies and gentlemen, I am so grateful for you guys this Thanksgiving season today, the day after Thanksgiving on November 25th. This is a great day, ladies and gentlemen, to sit back to relax, maybe help with the baking, talk with your family, talk with your friends, and maybe start doing those holiday traditions you do every year. Or if you don't have any, why don't you create some? One of my favorites is to have hot chocolate. Another one is to like I said, you know, make a snowman and go to the Christmas ice caverns.
John C. Morley (47:57):
And I actually am here. And I have to tell you, with all the time I do this, it's about the people. It's about the experience. And that's what's great about these holidays is that we can treasure these moments. And when we do that, that's when we truly live life. Hey ladies and gentlemen, thanks so much for popping in. And if you're looking to be a guest on my show next year, visit jmor.com. Click on the reach out today button and apply. Remember, we don't accept everyone. We're looking for people that are going to provide value to our show. It's not a sales show.
John C. Morley (48:36):
Have a great, fantastic, relaxing, amazing rest of the weekend of Thanksgiving. Maybe you'll have some more Turkey tomorrow. Maybe you'll have a little bit of pie. Maybe you'll even have some early Christmas cookies or holiday cookies. But whatever you do, plug in with your family and disconnect from technology for just a little while. You can always go back to it, but there's nothing like connecting with your family. Have yourself a great rest of the weekend. And you know what? I'm going to be back. Did you know that I'm going to be back next month? It's the first Tuesday of December, December 2nd. I'll see you then, guys. Have yourself a wonderful rest of your weekend. Take care, everyone.