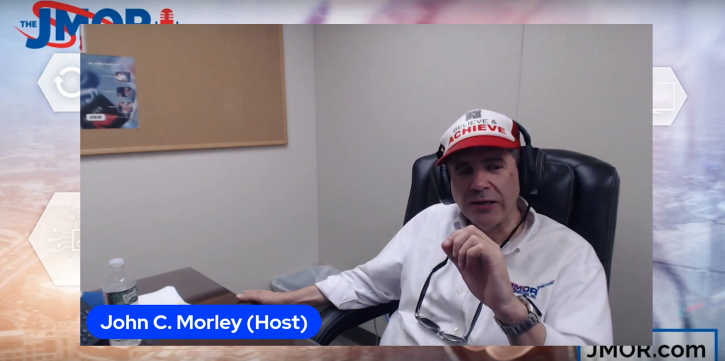 Click here to watch this video
John C. Morley (00:09):
Hi everyone. I'm John C. Morley, the JMOR Tech Talk Show host and inspirations for your life.
John C. Morley (01:03):
Well, hey guys, it is John C. Morley here, serial entrepreneur, and welcome to the JMOR Tech Talk show. You know, it is so great to be with you guys on another wonderful Friday today, kicking off our month on November 4th, 2022, and we got a great show for you again tonight, but let's get right into it, shall we? All right. Lots of things have been traversing in the world right now, and I'm sure you guys know about that. But one thing is the evolution of USB. Have you ever thought about where USBs, you know, came from, you know, where they started? Did it just pop up somewhere? Or, you know, did it really do something? Did it come out in some specific way? And I think today what you're going to learn from me is the story about, you know, where USB came from, because when I shared this with you, they are like, really?
John C. Morley (02:03):
I didn't know that was even; I didn't even know that came from there. So, to get a little further, people say, but John, you know, where did USB come from? Well, it was first introduced in 1996. The USB standard was developed by a number of American companies, including IBM, Intel Corporation, and Microsoft Corporation, as a simpler way of connecting hardware to personal computers. But it was actually in the doldrums of IBM that the idea started to first get, let's say, a few legs, and then Intel jumped on board and Microsoft as well. So, they came up with the idea in IBM. And then Intel in Oregon is where the engineers actually started to, you know, make this work. And they couldn't put something that was a little bit off the wall, but then suddenly, it worked.
John C. Morley (03:09):
And so, the next thing I want to share with you is, I guess, it's going to be the evolution of USB too, you know, where we are today. And I think that might be a little bit challenging for some people because, you know, there's so much to USB; we've got all different types of connectors and stuff like that, but where did USB start? Now we know how it kind of evolved, right? But the evolution of USB, I mean, I think that's it's something that a lot of us take for granted, okay? And USB, by the way, stands for Universal Serial Bus. So, as I said, it was released, so there were some pre-releases in 1995, but in 1996, the USB standard was maintained by the USB team, and it was the USBIF.
John C. Morley (03:58):
And there had been four generations of USB specifications, 1, 2, 3, and now we have four. So, there's also the less-known wireless USB standard, which came around. So, USB one point X came around in 1996. It was released in August of 1998 to the public and was the very earliest version. And it's what Microsoft designated, I quote, unquote, legacy-free pc. It provided a master-slave interface and a tiered technology, which was capable of supporting up to 127 devices and a max of six tiers or hubs. So the master was basically a regular PC with different slaves or devices linked via cable. And the cable length for 1.1 was limited to five meters. Now, for those of you out there, like John, what the heck is five meters? So, five meters to feet is probably what you guys want to know, and that's 16.40 feet in case you were getting lost in that story there.
John C. Morley (05:10):
So, USB 2.0 evolved, and they started to develop this from the USB 1.1 standard, which was released in 2000. Now, the main difference between 1.1 was the data transfer rates, right? They had a high-speed rate of four and 80 megabits per second, but it's important to note that even though a device you know was labeled as 2.0, they may not be able to meet the full transfer speed cable or the bus is being plugged into. So, the data encoding method for the USB and unit code version was now announced. And in addition to improvements in data capability, USB two also saw an increase in the power provision to 1.8 A. So, USB could provide charge for smartphones that were increasingly charging faster and more power hungry.
John C. Morley (06:10):
And so, if we compare 2.0 to 1.0, basically, it provided a much more needed improvement in the current capability. Okay? And then, we jumped all the way up to USB 3.0 technology, which was released on November 12th, 2008. So 3.0 adds what they called super speed transfer mode, which is associated with backward compatible plugs or receptacles and cables. And so, the SSP, Super Speed Plugs, and receptacles are identified with a distinct logo and blue inserts. And in a standard format, USB 3.0 is also introduced, the UASP protocol, which provides a faster speed of transport than the BOT, the Bulk-Only Transfer Protocol, which is what was used in the past. So, USB 3.1 came about in 2013 roughly, and it had two different versions. The first one was USB 3.0, the super speed transfer mode, and it was labeled 3.1 as generation one.
John C. Morley (07:19):
The second version introduced the new super speed plus, and the transfer mode under the label 3.1 gen two doubled the maximum date signaling rate, the maximum data signal rate, I should say, to 10 gigabits per second while reducing the line and coating overhead to just 3% by changing the encoding scheme to 128B over 132B. USB 3.2 was released in September of 2017, and it did preserve, I mean, the existing standard okay, of you know, of what we knew about in USB 3.1. So, data modules basically, and their actual modes of them, introduced two new super speed plus transfer modes over the USBC Connector. So that's the really small connector. We'll talk more about connectors later, with data rates of 10 and 20 gigabits. Okay, that's 1.25 and 2.5 gigabits per second.
John C. Morley (08:28):
So the increase in bandwidth is a result of a multi-lane operation, or what I like to call multi-path. And basically, you had the two wires, and they were intended for flip-flop abilities sent and receiving, but now they could use each one to send and receive; therefore, we would get 20 gigabits per second. So wireless USB rolled out around September 2010. And this was kind of a little bit unknown because a wireless USB, as the name suggests, is a wireless connection in which data can be transferred. Now, the standard in USB has not been as widely adopted as the standard released in 2010. The abbreviation WUSB was used, although USBIF does not encourage the use of the abbreviation wireless USB frequencies in the band of 3.1 to 10.6 gigahertz, and it produces a data bandwidth of 53 to 480 megabits per second over a distance of three to 10 meters.
John C. Morley (09:45):
So, what is 3 to 10 meters if we put that in? So, a 3 meter would actually come out to be 9.84 feet, and 10 meters would be 32.8 feet. So again, 9.84 feet versus 32.80 feet. So, I think when we start understanding where and why USB is gone, where it has, we probably have a lot of questions for ourselves. And the question is, why John, did they even come up with the idea of USB? And I think the real main reason is that people were getting frustrated. You all remember the parallel cables, right? That you had a take a minute or two to actually put it on the back of your printer, and then you had to basically take the little clip, and you had to clip on each end. And some of them even used cereal before that, right?
John C. Morley (10:45):
And some had cereal and some printers. So, you had to take your connection over, and you had to, like, you had to put it in, and then you had to tighten the two little knobs on each end to hold it in place. And sometimes, it was a real pain in the neck because you couldn't get that in there. So you had to have an adapter so you could get that screwed in with a screwdriver, and then you had to extend out, so you could get the other nubs in, and it would hold. Now, that took a couple of minutes to put those on, but it didn't take forever. But with USB Universal Serial Bus technology and the connectors and plugs, you could plug and unplug things in just seconds. So, I think that made a huge difference to people who wanted to use their technology more readily but did not want to get involved with what was happening.
John C. Morley (11:42):
So I think the idea of this was in people's minds for a long time, but nobody really knew what it was. We knew that we needed to have a better way to connect. And serial and parallel were just not going to cut it, especially back then. I mean, there wasn't this big emergence into more digital-type devices like cameras and smartphones. It wasn't so popular when we first started out. And then, of course, we evolved into USBs being able to go to, you know, eight, right? And having support for basically, you know, being able to go to that could do eight megs. Now we're up to things that can do close to it, go to where terabyte or larger, and you probably asked me, John, you know, what is the largest USB stick today? Hey, you know, I'd say that's an amazing question. So the largest data stick today is by Kingston. They're one of the ones that make it. And they make one terabyte. And also, there is now a two terabyte. Now, you might say to me, John, this sounds like it's expensive. Well, here's the funny thing, a 2-terabyte large storage thumb drive flash stick, right?
John C. Morley (13:15):
It's under 30 bucks. It's under 30 bucks. So that means that the technology for thumb drives USB drives has definitely evolved because if we were to look at USB drives way back then, I would say we'd be paying a hundred dollars easily for something like that. And so, with the adoption of our world moving toward more media-type devices, whether that's going to be displayed, whether that's going to be your smartphones, whether that's cameras, whether that's headphones, right? Whether it's smart IO devices, okay? Or whether it's even things that you have in your home that are like, let's say, things that could be for the kitchen. But when they have a smart component to them, they probably have a USB. Now, you might have remembered about, oh gosh, not too long ago, about a week ago, I talked about Universal Serial Bus, and I talked about the fact that a standard was adopted. That's right. The European Union, if you guys remember, adopted a standard forcing USBC. So, the European Union formally adopted a law requiring Apple to support USBC chargers. And this law requires Apple and other electronics manufacturers to adopt the USBC as a universal charging standard in the European Union as this was clearing its final procedural hurdle, and it was passed. So the question is, is this going to be something the US adopts? Don't know? I think it'd be a great thing.
John C. Morley (15:23):
So basically, USBC iPhones need to be in this standard by 2024. So that's all iPhones, right? I should say all models sold in Europe, as the European Union has reached this agreement of a common charge import. So you might say, John, why are they doing this? Why did the European Union adopt a standard for forcing USBC? They wanted to streamline the number of cables and, you know, chargers. I mean, if you open your drawer, I'm sure you don't just have one cable. You have this cable, you have that cable, and we're going to talk about that in just a second. So, what are the different types of cables? All right, we'll go there in just a minute, but I think something even more important is that we have to talk about its evolution. So, in 2017, we talked about the USB 3.2 standard coming out, then we said in 2010, the wireless USB standard came out.
John C. Morley (16:34):
And then on August 29th, 2019, USB four specification was released, based on the Thunderbolt three protocol. So, it supports 40 gigabytes of throughput and is compatible with Thunderbolt three and backward with USB 3.2 and 2.0. Obviously, the speeds would change, and they would go down. So this architecture changes the cable and the way it's sharing data, okay? And the standards, but also what changed in USB 4.0. Do you know what else came in 4.0? USB 4.0 has more features. Okay? So, I want to tell you that in USB 2.0, we started to have the plug-and-play where you could actually plug and play to a media device that was supported. So, USB 4 tops out at 40 gigabits per second, twice the speed of the latest version of the USB 3 and eight times the speed of the original USB 3 standard.
John C. Morley (17:47):
That's pretty, and you're probably saying, well, gee, of course, it's faster, but it supports the maximum speed of the previous cables, so it can always go backward, right? So, USB 4 brings together speeds and compatibility, and you know what else USB 4 brings? It brings improved display data splitting. So, USB 3 introduced the ability to use a single cable to send power, data, and a video signal. But now, okay, over a single cable, which was great, but sometimes depending on how you set it could only send one or the other, or speeds were greatly reduced on one of the pathways. So, the four do this much better. So, if you have a monitor that uses 8 gigabits per second for its video bandwidth, and the full 32 gigabits per second will be available for other purposes, it's just one of those behind the scene changes that are going to make life better and a lot more efficient for everyone that uses technology.
John C. Morley (18:54):
So, there's, were good news about USB 4. It doesn't use a new connector, so it's still going to use the same connectors that the USB 3 technology used. And we're still in a little bit of a transition period because this rectangular port and the small trapezoidal one, the big trapezoidal one is the sleek USBC. And you can't go wrong even if you tried because changing this again would be disastrous, and we're not going to change USB. That is the standard. It's staying if you don't like it. Too bad. So, now some bad news, it won't be here for a while, right? It's probably, what you've been hearing is the changes. But USBC has made changes when I say for a while, the fact that it's being adopted everywhere. So, USB is pretty amazing, and they're going to have USB 4.0, 4.1, 4.2, but people were saying that they don't plan to get into it as most people want to keep it as simple as possible. And when and if it goes faster, we simply have to have a faster version of the certification and the brand, right? So, people say to me, John, will there be a USB 4.1?
John C. Morley (20:19):
And so, USB 4 is quite amazing, right? But before we can appreciate USB four, we must know something else. Do you know what that's called? PDL? Yep. Power Delivery. So, USB 4 version 2.0 boosts protocol tunneling by leveraging larger bandwidth with the expectation of improving USB 3.2. Okay, great. We're just tunneling past the 20 gigabits per second at 40 gigabits per second. So USBIF expects to publish a spec as well as relevant updates to the USBC standards, hopefully by hoping by mid-November. So that's still not even done. So, what is USB Power Delivery, USB smart, I'll call smart power delivery? Well, we all know that as devices are getting, let's say, more robust, even though they're smaller, they're still sometimes taking more power.
John C. Morley (21:33):
We already discussed the need for all these devices to have different power requirements, right? So, with the Smart Power Delivery, the device is able to ask for as much power as it meets. So normally each device charged by USB will have its own separate adapter, but no more, with the universal USB power delivery system, it will automatically be able to adapt. So, USB PD or USB Power Delivery is something that I believe is going to really change the world, but I want to dive into that more. So, the specs of the USB Power Delivery.
John C. Morley (22:22):
So there's an increased power level from existing USB standards of up to 240 watts. And the new 28 volts, 36-volt, and 48-volt fixed voltages enable up to 140 watts, Warren 80 watts, and 240 watts power levels obviously, you know, respectively. So when we think about this, I think people are trying to understand, well, what is this and what is US power delivery? So, US power delivery is a very specific standard for how power will be delivered on USB. So, we have US power delivery 1.0 in profile one that's going to give 5 volts, two amps, and that's 10 watts of power, great for smartphones, hard drives, and small accessories, USB power delivery 1.0 profile 2, it's going to give 12 volts, 1.5 amps, 18 watts, great for smartphones, tablets, ultra-books, and larger accessories.
John C. Morley (23:33):
So, one is good for smartphones, hard drives, and small accessories, but two is for smartphones, tablets, ultra-books, and larger accessories. See, because it has a higher power requirement, in USB delivery 1.0, profile 3, it's still 12 volts, but with a current max draw of 3 amps at a power rating of 36 watts, this is going to be good for future smartphones, notebooks, displays, and of course hubs in the US Power delivery 1.0, profile four the voltage is 20 volts now, with a current of 3 amps and a power of 60 watts, great for larger notebooks, hubs, docking stations, et cetera. In the US, power delivery is 1.0 in profile 5, and it's 20 volts at five amps. Wow, that's a big difference. Now, I have to caution you that when we get into USB power delivery profile 5, because it is for workstations, hubs, and external graphics cards, it will require an especially rated 100-watt USB-C charging cable.
John C. Morley (24:38):
Or you may have a fire; I like to see the smart delivery system would automatically detect the cable, and if it doesn't see it, I'd like to see that it doesn't provide any more power. That's what I'd like to see. I don't think we're there yet. In the USB power delivery 2.0 and 3.0, World One profile one will give 5 volts at 0.1 to 3.0 amps at 10 watts. Great for headphones, and small accessories, in the 2.0 3.0 USB power delivery profile 2, it's great for 9 volts, 1.67 to 3.0 amps 15 to 27 watts. Smartphones, cameras, and, yes, drones. Drones are becoming very popular in the US Power delivery 2.0 3.0 and profile number three 15 volts, 1.8 to 3.0 amps, 27 to 45 watts tablets, and small laptops. And in the US, power delivery is 2.0 3.0, it's 20 volts, but it's 3.0 to 5 amps.
John C. Morley (25:39):
Now you notice something similar in the USB power delivery 1.0, profile 5; It was a 5 amp with 100 watts. The USB 2.0, 3.0 is 3.0 to 5 amps max with a 45 to 100. So, you see, that's also going to require that special USBC 100-watt charging cable. Now, I think a lot of people are just fed up with the fact that they got to buy all these cables. So, the question you might be asking is, hey, John, when is the US going to make USBC charging ports mandatory? You know, that's a great question. I think the fact that European Union is doing it. I think the US will eventually follow. And once Europe sets that standard, I think America as a whole will continue to follow that.
John C. Morley (26:53):
But it's still a challenge. And there are a lot of people that don't understand the how and the why. Hey, you know, this is getting stuck up in a lot of politics, right? And, I think some politics is good, but I think in this case, we're really having a problem. And that problem is, what is it that you really want in your device? And if you could just go and buy a universal cable with a universal charging plug, I think that's great, as long as it's small. And I mean, if you're going to use that 2.0, the 1.05, or, as we said, the USB 2.0 3.05, you're going to need that USBC extra 100-watt cable. But I think it should intelligently switch so that you don't have to worry if the cable's going to support it or not support it. I think that's really what I'd like to see.
John C. Morley (27:59):
But I am very happy to see that USBC is making changes. Now we know it brought audio to the world, right? Now we have displays. So, I like what they did with Thunderbolt, and then they made USBC because many people think that Thunderbolt is USBC, and it doesn't have to be; they're two different things. They have different protocols. But I think the thing that most people are going to join the most is that they can just hook up their device in seconds and not think, oh my gosh, let me see if I got the right cable. I mean, that's just horse nonsense, right? Let me see if I got the cable, if I don't, I got to go online and order it, or it didn't come with this cable, right?
John C. Morley (28:48):
Just be nice to know that every device, from the microphone to your smartphone, so, even some devices that you buy at home, are also smart devices; that could be your Alexa, that could be your Google voice, or what have your devices. I think that's going to be amazing. And I also think, ,besides your iPhones and IP phones, it'd be nice to know that I don't need to go crazy and say, oh my gosh, what cable? How many of you ever remember? I don't know if you ever guys remember the game, Merlin, and I don't know if anybody remembers that game. Maybe some of you guys don't. But what is the game, Merlin? is what you're probably saying to me. Some people be like, John, what the heck is Merlin? So Merlin actually was first made by Parker Brothers in 1978, and it's this kind of rectangular device.
John C. Morley (29:53):
It's nine and a half inches, according to Wikipedia, which will quote, and the player of the game console is a matrix of 11 buttons and contains red LEDs. And these buttons can either light up or flash. And they do this in a host of different ways. In a red plastic housing and bearing sight, you could resemble an overgrown touch-tone telephone, but not really exactly. So there are four-game selections and control buttons, and they're also placed at the bottom of the unit. So, a speaker takes up the top part of the unit supporting electronics, including a simple microprocessor, contained within the shell of the game, and Parker Brothers later released Merlin Master Merlin with more games and the rarer split second where all the games involve time with a more advanced display, having line segments around the dots. Now you're probably saying to me, John, what the heck is the Merlin advanced game?
John C. Morley (30:59):
All right, so Merlin, the advanced game, obviously had some pretty cool things, but you know, Merlin had all these cool things that you could do, and they had a multi-game that you could do. You could do things like, you know, basically press the button. And if you're wondering what else, there were just a lot of different things, patterns you could even do, like playing different things with it. It was a fun game, and I know I spent hours, you know, playing Merlin if you want more specifics. So what specific games were on Merlin? Now you're going to make me think. So you had the game of chance, you had a strategy, you had memory, and then you had logic and skill, and you could even teach Merlin to play music. That's the one I was referring to.
John C. Morley (31:58):
And you can even compete with him, and you'll discover that Merlin is very talkative. So Merlin is for one or two players, and they said it is for ages seven to adult. And I remember having to take the back off, and that's where you put the; I believe it was the nine-volt or whatever. I think it was the batter. What was that in there? I'm trying to remember. I don't still have my Merlin, but I'm trying to remember now. Actually, no, it wasn't a nine-volt battery. Did Merlin take what kind of batteries? I'm trying to remember. I think it wasn't a nine-volt battery. Merlin, you know, the game had, if I remember right, you had to put in, I think it was either four AA-size batteries.
John C. Morley (32:47):
That's what it was. And I always hated games. You had to put in more than one battery. And I liked it when you just had, you know, just like one battery, like a nine volt. But, you know, they did the design like that. I also remember I had this robot getting a little off-topic, but I had this robot, and there was one set of batteries you put in for the motor, and then you put another battery in for the lights. And I remember one robot I had; it was kind of a little scary looking, you know, when you were only a couple years old, and he had, like, fire in his stomach, and it was just kind of like this robot move. But you saw like the fire in his stomach almost reminded me of a dragon, but that's not what it was. And it had these pistons. So, wouldn't it be nice today if all of our games had USBC connections? I think that would make so many people happy. Can you think about that?
John C. Morley (33:59):
Think about how you could keep your draws with so much more room because you now have one adapter, or maybe you have one universal adapter, you have three or four of them, but it's all the same adapter because they all take the same different device. And the beauty of that is that not all devices need to be charged at one time. I think that's really the amazing thing there. But getting into another thought which is the USBC cable. So, there is, so USB cable basically, and this is the whole issue is, you know, will the USBC cable make apple's iPhone obsolete? I think that's a toss question because USBC is becoming more common on Apple products, but the lightning cable still plays a big role. So, will Apple get rid of the lightning connector? I don't know.
John C. Morley (35:22):
They're saying that Apple will drop the iPhone lightning port in favor of the USBC, but they're really going to have to retool things. So, I'm very psyched to see a phone that's going to have a USBC, and they're saying they will have it out by 2023. Now you remember why they're doing this? Because let's face ladies and gentlemen, they're not going to make one phone for Europe, one phone for the United States. They'll make some little tweaks, but they don't want to get into that. They want to keep production costs as low as possible, but how can you keep production costs low when you've got all these stupid parts that you've got to always worry about? I mean, I think that's the biggest challenge. I think that's the biggest challenge. And if you could understand that manufacturing a product needs to be efficient and cost-effective, and you need to be able to be consistent, I can tell you that there've been lots of issues with the lightning connector because some people break them off. And I think the USBC is just going to be, in my opinion, this is just my opinion, the USBC is more rugged than the lightning.
John C. Morley (36:49):
And the USBC is going to handle the fast charging, and it has more protection precautions. So USBC cable has a higher specification on internal resistance than the 2.4 A lightning cable. And with that understanding, you can use any cable and charger under its maximum specification. It should be safe to use as long as you're using as long as you don't need that power profile 2, right? Which is 5, or let's say profile five under USB 3. So either way, I think people are going to be a lot happier with that. I think that's going to make people really happy. And I know that people don't quite understand, but I know that once this becomes, let's say, mainstream in life, it's not even going be an issue of if or why or when or how people are just going to be so on board with this that they're gone wonder how the heck did they ever live without USBC.
John C. Morley (38:09):
So as USBC becomes more of a standard, it might even lower the cost of the product, probably not, but they could pass that on to some manufacturers, so they don't have to always develop all these different charges or cables. It's definitely going to make if you manufacture something a lot easier in a support capacity because you just need to stock one type of charger. The only thing you would have to do is if you were going above and needing to go to profile 5 for USB 1.0 or USB 2.0, 3.0 profile, you have to give the hundred, you know, what rated cable, that's it. Other than that, you can use the cables for anything you need. So pretty interesting stuff, right? Pretty cool. Our last topic for today, which I think you guys are going to really appreciate, is Netflix's constant ads that are frustrating customers. I mean, what's going on? What's going on on Netflix?
John C. Morley (39:14):
And I think, you know, the question is, are people going to be more upset? And really, this is part of Netflix's new want-to-be streaming model where they're charging 699 and saying, gee, we'll give you Netflix 699 streaming, but then you got to sit through all these crappy commercials and ads will be shown only to customers of new or cheaper tiers of the service and only on certain content. So, this really doesn't explain much crap. It's saying that if it's less than 699, you're going to be shown ads. But if I pay 699, I'm still going to be shown ads, only certain content. That seems like an oxymoron.
John C. Morley (40:16):
And I feel that people are not going to want to put up with this. And I think the worst thing you could do, everyone and Netflix, is to tell people that this is where it's going. And this just started November 3rd, just the other day, yesterday. So Netflix ad tier is here now. The streaming company just announced yesterday that they have this new big effort to jumpstart subscriber growth. Great. But now that they're giving away the kitchen sink, and then they're kind of taking it back from you, I have a serious problem that this might piss off some people. I mean, I'm just saying, I know if I'm getting a service for 299 a month or 599, I'm thinking I'm going to be paying for it. And then you're showing me ads. They're saying on selective content, but hey, Netflix, you're really not telling us which content.
John C. Morley (41:10):
So, I think this is going to come back to bite them. I really do. Hey, ladies and gentlemen, I am John C. Morley, serial entrepreneur. It's been a privilege, and a pleasure, to be honored to be with you this amazing evening. I hope you'll like, love, and support the channel that you know, what I'd love you to do. I'd love you to tag your friends, your colleagues, and your associates and share this with everyone you know. And then, once you do that, I would really appreciate it if you click on the PayPal link below any of our videos and choose to buy my team a slice of watermelon, a cup of coffee, or a delicious dessert. Either way, we'll always be grateful for those pennies and dollars. We'll invest in new hardware, new technology, new equipment, new software, and even new facilities to give you the most jaw-dropping motivational content.
John C. Morley (41:51):
Hey, if you're looking to be a guest on the JMOR Tech Talk Shows, visit jmor.com, and click on reach out today. Tell us why we should consider you to be a guest. And if we'd like to, we'll invite you for a pre-show talk, and if that works out, we'll invite you to be a guest on the show. I hope you guys had a great rest of your day, and I hope that in doing so, USB and USBC are going to be something that you're going to choose to adopt. Because, like it or not, if you don't, life's going to become a little challenging for you. I'm John C. Morley, serial entrepreneur the host of JMOR Tech Talk, and I want you all to have a wonderful weekend; I'll see you guys next Friday, November 11th. Take care, everyone. Have a good night.
Click here to watch this video