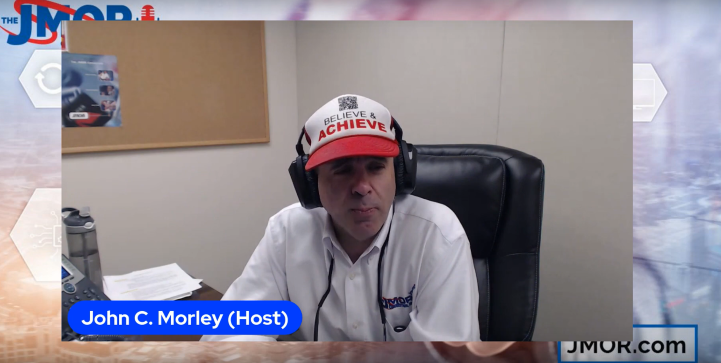 Click here to watch this video
John C. Morley: (00:09)
Hi everyone. I'm John C. Morley, the host of the JMOR Tech Talk Show and Inspirations for Your Life.
John C. Morley: (01:02)
Hey guys, it is John C. Morley here, serial entrepreneur, and welcome to the JMOR Tech Talk show. It's great to be with you on the last Friday of October. All right, October 28th, 2022. Hopefully, all of you ghosts and goblins are getting ready with your scary costumes and, healthy candy. You know, a lot of dentists in the area are actually doing buybacks for the candy because they want to give you delicious, healthy treats for your candy. And some are even giving you money for your candy. So interesting there. But please do make sure that if you are going trick-or-treating, you make sure that your candy is completely sealed before you open it and that it has not been tampered with, as we don't want to have anyone having a very unhappy Halloween.
John C. Morley: (02:09)
All right, let's get right into the show, shall we? We have so much to talk about, and I can't wait to get to all this. So, in the first n set of news that I wanna share with you, is everyone ready for the first news? All right. Elon Musk, yes, he buys Twitter. Ah, can you believe that this actually happened? Musk says the bird is freed after a 44 billion deal, and Musk fires Twitter CEO, CFO, and policy chief, and some Twitter users flag a willingness to walk away, which is interesting. And polls show that employee jobs are definitely a concern, and the European Union warns that the bird will fly by our rules. Let's hope that's the way it's going, but I think they're the most concerned about anything. So Elon Musk has officially taken ownership of Twitter on October 20th with brutal efficiency firing top executives.
John C. Morley: (03:14)
And I guess there are still some issues as to why did Elon Musk buy Twitter? Was it for political reasons? Was it to make a statement? We still have to learn about that, and I think many people are probably shocked that Elon Musk did buy Twitter. And you know, I know that many of you're saying to me, you know, John, why did he buy Twitter? You know, I keep saying the same thing. It doesn't seem to go into any kind of pattern with what he normally does. Well, nothing. Elon Musk goes into a pattern, actually. So Musk fired Twitter, chief Executive Paraag Agarwal, Chief Financial Officer Ned Siegal, and Legal Affairs and Policy Chief VJ Gottle. According to people familiar with the matter, he had accused them of misleading him and Twitter investors over the number of fake accounts on the platform.
John C. Morley: (04:16)
Musk, as you know, also runs the Rocket company SpaceX, and he plans to become Twitter's interim CEO, according to a person familiar with the matter. And following an earlier report by Thompson Reuters, Musk also plans to scrap permanent bans on users. Bloomberg said, citing a person familiar with the matter. That's interesting. And I could think of a few that he's probably gonna reinstate immediately without us getting into politics here, but you know what I'm talking about. So, before closing the deal, Musk walked into Twitter's headquarters on Wednesday with a big grin and a porcelain sync, subsequently tweeting, let that sync in. He changed his Twitter profile description to Chief Twit. Oh boy, can we say ego? Can we say big ego? Musk said in May, and I quote, he would reverse Twitter's ban on Donald Trump, whose account was removed after the attack on the US Capitol.
A representative for Trump did not immediately respond to a router's request for comment. Still, the former US president said he won't return to the platform and instead launched his social media app called Truth Social. So Musk tried to come Twitter employees' fears that major layoffs were coming and assured advertisers that his past criticisms of Twitter's content moderation rules would not harm its appeal. So Twitter obviously cannot become free for all, as we know, and anything can be said without consequences. But Musk said an open letter to advertise this Thursday. As we can see, it's gonna be very interesting. And as news of the deal spread, Twitter users were quick to flag their willingness to walk away. I quote Elon Musk, "I will be happy to leave; leave in a heartbeat." If Musk will act as well or expect him to say this is actually from a user, sorry, with the Musk Love Dog's XO account. So that was a tweet actually from a user. So not from Elon Musk.
European regulators are reiterating past warnings. Under Musk's leadership, Twitter must still abide by the region's digital service acts or DSA, which levied heavy fines on companies if they do not control illegal content. Now, in Europe, the bird will fly by our EU rules, is what the EU said. And I quote that the European Parliament lawmaker and civil rights proponent Patrick Breyer suggested that people look for alternatives where privacy is a priority.
John C. Morley: (07:05)
Oh, I don't know. This is definitely gonna be interesting. And so, the big question is, why did Elon Musk buy it? I think he bought it because he wanted to give people a vehicle to have free speech, but we know that it's a lot more than free speech, right? This was personal, not just about a financial deal. This was really personal for Elon Musk and also because some of his friends got banned. I think he took it over because he just wants to unban them. I think that's why he wants to make sure that he can control things in the future, but we heard from the European Union that he's not going to have as much freedom as he thinks. So we'll have to stay tuned to that.
In other news, a lot's been happening as we're gearing up for the holidays. And one thing is that Bed Bath Beyond might have had a data breach. Yeah. So Bed Bath and Beyond, or BBBYO said by, on a third party this month, had improperly accessed its data through a phishing scam by accessing the hard drive and certain shared drives of one of its employees. This big box retailer said it was reviewing the data, and there was access, so it could determine whether the drives contained any sensitive or personally identifiable information. This home Goods retailer has no reason to believe that any sensitive or personal identifying information was accessed and that this cybersecurity incident would likely not have a material impact on the company. Of course, they're gonna say that ladies and gentlemen, but do I believe them? Heck no. I think they're just covering up something that we're going to discover tomorrow, maybe weeks or months later, that potentially has harmed many people.
John C. Morley: (09:10)
Whenever we talk about a data breach, I mean, nobody really wants to be the subject of one, but I think it's important that if you are part of one, that you're honest about it, and if your company was exploited, well then you need to fess up and tell the truth, right? All right, data breaches are never fun, and we'll have to keep track with Bed, Bath and Beyond and see if they really have a data breach. Right now, no one seems to know, but I tend to believe there's a high probability that they did have a data breach. Now, I can't state that verbatim, but it's interesting that, you know, there's a lot of effort going into this. And so, what is this really mean? I think it means that people are going to be more cautious, okay? People are going to be more cautious. You might say, John, why? Well, I think we're gonna say why for the main reason, which is that it's not something people really want to discuss.
John C. Morley: (10:46)
And you might say, John, what impact can this really have? Well, the impact it can have is it could cause people to have a lot of challenges, and it could cause people millions of dollars to get their identity back. And if we understand this, then maybe next time, they might be a little more careful with the data that they have. And so, I know, ladies and gentlemen, that data breach standard operating procedures to mitigate them are definitely something that more people are gonna be concerned about. But I don't like it when people decide that everything is just fine when it really isn't, right? And so, why would people do this? I think they would do this because they don't want to be hit with all these fines.
John C. Morley: (11:57)
They don't want to be hit with all these fines. And so I know that this may seem like, you know, like water under the bridge, and maybe it is, but then again, maybe it isn't. And if it isn't, or if it was, aren't we better to be trying to mitigate something that is under wraps? Because if we didn't do that and there were all these implications, I think that would cause a big problem, a big problem in the sense that it would hurt somebody. But not only would it hurt somebody, let's say financially, and with their personal information, but it would also cause a lot of distrust to be built in companies like Bed, Bath and Beyond, right?
John C. Morley: (13:14)
Think about that just for a moment. Now, I know, ladies and gentlemen, that nobody wants to think about this, right? But the truth of the matter is this is something that happens every day in our life. And why do companies do this? Well, they do this because they know that they're not able to, let's say recover, but the biggest reason they do it is that they just don't wanna pay fines. I mean, plain, simple. So they'd rather lie, or what I'll call quote-unquote, leave out certain information, which is what I wanna call lying by omission. Yeah, say that one a million times fast. Lying by omission.
John C. Morley: (14:13)
Lying by omission. Now, that might sound like something that's crazy, but it really isn't. And this goes on every single day. Every single day this goes on, every single day this goes on. And so, if a company was able to save thousands or millions of dollars, I think they might try to exclude certain information so that they would not be penalized with financial or fiduciary responsibility. I mean, I think that's the main reason. The other thing would be that they're afraid of damaging their reputation from people already using their product or service. And if you don't understand that, whether you own, whether you're in a company, or you work for a company, then I think this really comes down to a sop, and it comes down to what I'd like to say as an audit. An audit to make sure that you're doing what you're supposed to be doing. If you're not doing what you're supposed to be doing, then we have a problem.
John C. Morley: (15:37)
We have a very, very big problem. And so I know that these companies don't want to lie. However, they're lying because they're trying to do a CYA, and they don't want to get in trouble because they know the fines that they will impose. Lemme tell you, they're gonna be pretty hefty. We're not talking a hundred hours. We're probably not even talking a thousand dollars. We're probably talking thousands of dollars, if not millions of dollars or more. And so if we can understand that, then I believe life would be different for these companies. But they think it's okay because they're so big and because, oh, you know, it was just our IT department and they didn't tell us. So it comes down to something I want to call accountability. The person that says we were not attacked, or we didn't have a data breach, is they stating this based on what evidence did the IT department say there was a possibility they were attacked? Or does the IT department say we don't believe we were attacked right now; however, we're still researching the matter. Did they just cut off the end of that saying? I don't believe we've ever had a data breach or that we've had a data breach. I think that's what's happening. They're misconstruing the truth because they're lying by omission.
John C. Morley: (17:22)
Alright, ladies and gentlemen, I think all companies or public companies are guilty of this because they know they've got their hands caught in that cookie jar several times. And not only is it painful, but it's also extremely expensive.
Another important piece of news you might notice is that remote work ads are disappearing. But why, you know, remote work became very prevalent right around the pandemic. But why is that changing? The number of remote job listings had hit an all-time high in February, with the fifth of the US posting being for offsite work or work-from-home positions, and drew a total of 50% applications. This was on LinkedIn alone; just by last month, remote postings had shrunk to 14%. Why? I think the world is starting to understand that this trend of working from home is changing. It's becoming more important to be on the premise and do your job.
John C. Morley: (18:35)
Because if you can't do your job on the premise, what big companies are starting to notice is that they're losing clients. They cannot give the level of customer client services that they would expect, and they're going through the auto and saying, oh my gosh, what are we gonna do? So the appeal of working from home has changed. And in September, remote roles got over 50% of all applications in the US, and as we said, that represented just a 14% change. So talent acquisition has changed. How people get work has obviously changed, but why? I think it's changed for one reason, and the reason it's changed is that people now realize that they need to get back to work to actually do work. And so a lot of big companies are starting to make concessions, but if you work on-site, they're actually giving you more money. They're not giving you less to work at home, but they're saying, if you come to the office, we're gonna give you more because they know that when you work in the office, you're going to be a more viable asset. Not this nonsense of, oh, I gotta make dinner, or I've got a, you know, pick up something. They know that people that work from home more often than not are not working, okay? And so that's a problem.
John C. Morley: (20:18)
Workers are, of course, having their coffee breaks, but are they really working, or are they multitasking? Not their office jobs, but let's say their home stuff and then kind of doing one office job. I've seen this happen myself. I called a cell phone provider, and I spent 30 minutes on the phone with them, and then they gotta roll me over somewhere else. I mean, come on, right? That's not customer service. That's what I call customer service. And that's a service we shouldn't be having as clients, right? Or customers. So I think remote work will continue to decline and more people will have to understand that you need to be in the office, right? And we need to quit making excuses.
John C. Morley: (21:10)
I can't tell you how many jobs we posted, and we get people from other countries. It even says in the ads that you must be located in this area. And we state where that is, and they send a resume with a domain in India or another country. We made a template that we click one button to refuse people. And it basically says your application has been rejected because we found that you are not local to our area. I mean, why do they do this crap? This is what I want to know, why
John C. Morley: (21:53)
More people are filling out forms online, and what we discovered in our tests a few weeks ago. You can have a great capture form, which we obviously do, and we wrote it where you could drag the puzzle pieces around. But there are a lot of sites that either use these Google captures or other captures, and they're very annoying because the pictures are foggy, or you have to try to hear a sound through some other nonsense. Those are easier, though than the pictures cuz they ask you for a fire hydrant, a bridge, or a palm tree, but the pictures aren't clear.
John C. Morley: (22:31)
We also have found that many people are attempting to fill these forms out, but they're using JavaScript injections or forms that allow people to copy and paste. So I advise you to ensure that your JavaScript queries are blocked to the form. So, somebody can't just run a query to it, or they can't copy and paste any data in your form. Now you might say, gee, this is gonna make it hard for me. No, it's not. It's going to get it to a point where people are only going to leave you messages if they intend to. Now we've talked about that work balance, but I think more people are starting to understand that the work is changing.
John C. Morley: (23:21)
Workers are trying to have these flexible schedules and work-life balance, but unfortunately, a lot of them are not working. They're at home, and they're doing everything else but work. And if they have a free minute, well, maybe they'll actually help a customer. I want to quote something, an analysis by the Federal Reserve Bank of New York last week found that collectively working from home saves Americans 60 million hours of commute time each year, which is spent instead of taking care of kids, cooking, cleaning, exercising, going out, or simply getting extra sleep. So should someone be rewarded for coming to the office? I have to say no because if the office is where you need to get your job done, you shouldn't be getting a bonus for coming to the office. You should get something if you do more, but not just because you show up, right? That just kind of gets you at my gander. I'm not pleased with that at all.
In other news, Facebook meta is now possibly caught in a crossfire. Ugh, that's not good.
Caught in a crossfire. What are we talking about? Well, we're talking about things that are happening, okay? And I feel that many of these companies out there believe that, you know, they have to do things a certain way, but if they can't do them a certain way, well then they'll just do something else and think that it's okay. But we all know what a cross-virus is, I don't have to get into that, but I'm talking about the point of what's going on. And the point of what's going on with these companies is that they're starting to have an issue. And I'm talking about the issue right now where Amazon's getting irrationally swept up in the Tech angsts.
John C. Morley: (25:51)
And with Amazon being caught in this crossfire, following their very low earnings from the Facebook owner meta platforms, the 1 trillion online retailers took a big hit after unveiling its third-quarter results, a warning on the upcoming holiday season erased 200. I'm not saying million, ladies and gentlemen. I'm saying billion from the company's market value despite strong performance in North American sales and the cloud business. When industry investors are recalibrating what's important, what do they need to do even with other decent companies? So I think this is definitely a problem, and I think Amazon's web services have to be looked at in how they're being utilized.
John C. Morley: (26:44)
Retailing isn't consistently profitable, and through the first nine months of this year, more than 8 billion in operating laws chewed up half the operating profit by the AWS Amazon Web services. And this was despite the fact that there was a 2.6 quarterly US GDP growth. It's a problem. Amazon said, and I quote, the fourth quarter, operating cup could be as low as zero, along with net sales projections that fell below what analysis we're expecting, according to estimates gathered by Refinitiv foreign exchange rates and blaming them. Did you know that North American sales make up 60% of Amazon's top market? Unlike meta, Amazon is a victim of wider trends, including Angus, over technology sectors. And I have to agree with routers that I believe they should be reprimanded and punished or fined equally for what's going on. And fund managers are moving the goalposts after years of infatuation with growth; they're now pouring over the bottom line. So Amazon is now providing its retail businesses things so that they can ultimately become profitable. But are they really, or is it just a never-ending circle of loss of money that Amazon is just depleting?
John C. Morley: (28:36)
I think people want things easy, and people want customer service. They don't wanna call an Amazon desk. And I know, like when I call, I say I like to speak to a US agent. It's like they're chastising me. Why? Well, because every time I talk to you or one of your kind of people, it's like you don't seem to understand your work ethic is different, but you can't explain this to them. This is not about discriminating against a person. It's discriminating against a work ethic. I'm as equal opportunity as the next guy. Race, religion, orientation, color, creed. But let's do the work that anyone else would do in that position, right? I mean, I think that's only fair, ladies and gentlemen. I think it's fair. I think it's very fair.
John C. Morley: (29:35)
We will definitely keep an eye on that, ladies and gentlemen, and let you know what's happening because there's definitely a lot going on with Amazon and a lot going on with meta. And I bet you didn't realize how close they were tied to each other, but they're tied into each other in more ways than you probably even knew existed. Well, a bug in the Apple Mac OS Ventura breaks third-party security tools. Your anti-malware software may not work if you upgrade it to the new operating system, but Apple says Affix is on the way. I love the way they just say, oh, a fix is on the way. You know you have an issue with updating something you can't connect to your system because of some new update Microsoft rolled out, or Apple rolled out. Don't worry. Affix is on the way.
John C. Morley: (30:36)
And this is causing problems for those relying on third-party security programs like malware scanners and monitoring tools in patching the vulnerability. In the 11th Ventura developer beta, which was released on October 11th, Apple accidentally introduced a flaw that cuts off third-party security products from the access they need to do their scans. And while there's a workaround to grant the permission, those who upgrade their max to Ventura may not realize that anything is amiss or have the information needed to fix the problem. So I think this gets down to something I want to say is just sloppy performance. I don't care whether you're a company with $1 to your name or a company with billion dollars or billions of dollars. It comes down to a work ethic. It comes down to an understanding. It comes down to an accountability level. And if you cannot be accountable, why the heck are you in business? I mean, security tools not being able to work. I mean, that's not a minor thing. That's a major problem.
John C. Morley: (31:50)
So they said that Apple attempted to fix the floor multiple times through 2022, but each time it was unable to find a workaround for the company's patch. So I don't know, ladies and gentlemen, I think that companies are not producing quality products. I'm not here to single anyone out because I found that since the pandemic was around us, and I don't want to say that was the problem, but it's because people got lazy. People weren't getting validated like they were in the office. So when you work from home, most companies don't have a way of validating that you were even producing something that's in scale or on a scope. And by the time they figure it out, millions of dollars and potentials, people's identities have been compromised. I don't know; we'll have to see what happens, but we will keep you in the loop on what's happening.
John C. Morley: (32:52)
And Europe is preparing to rewrite the rules of the internet. Wow. The rules of the internet, I think this is gonna be pretty cool. We said this was coming, ladies and gentlemen, for a very long time. It's called the DMA, the Digital Markets Act, and will force big tech platforms to break open their gardens in 2023. And this is according to the European union's new ambassador to Silicon Valley, and I find that we're just gonna see what's going on next week, which is November 1st. A new law takes effect that will change the internet forever and make it much more difficult for a company to be a tech giant. The European Union's Digital Markets Act comes into force, starting the clock on a process expected to force Amazon, Google, and Meta yet this everyone to make their platforms more open and interoperable in 2023. Wow. Hallelujah. That could spur major changes to what people and manufacturers of devices and apps have been asking for years. But why haven't they done it in the past? I think it's because of politics. I also believe it's because of the cost. Because to make something interoperable, ladies and gentlemen, require a lot more money and resources than something that's closed. It also gives the company an excuse to say the product is proprietary.
John C. Morley: (35:01)
It gives them an excuse. How do you feel about that? I think it will have people with mixed emotions all around the globe. And as Europe rewrites these rules, I would hope that the US will soon follow. Like having your iPhone and not being permitted to download from anywhere but the app store, that's a problem. It's a big problem. So I think whether we're talking about European Union's digital privacy law, the GDPR, or the T M A, this should lead Europe to major changes in how tech platforms will serve people beyond the Europeans union of 400 million internet users because some details of the compliance will be more easily implemented globally. Now, tech firms will quickly need to grapple with, you know, sweeping the EU legislation if you do business with them. And the DSA act requires a dangerous assessment of some algorithms and disclosures of automated determination-making and will pressure social apps like TikTok to open information to exterior scrutiny. This, ladies and gentlemen, could be the thing that drops the major shell. We've talked about the need for interoperability, but forcing companies like TikTok, it's pretty much run in China. They said there are some US legs, but I don't believe that too much. This is happening because of a new order, an order that's stating that technology has been a piece of fascinating information that we're not talking about is personal. We're just talking about interoperability so that other companies can get on board. But by doing this, is this going to open up security holes? It could, but I think the standards are gonna have to be set in such a manner that even though you know the information, you can't exploit it. You know the process, but you can't exploit the technology.
I think that's gonna be something that'll be interesting to observe. I find, ladies and gentlemen, that all these things happening are really transpiring for one reason. Do you know what that reason is? That reason is that people are getting fed up with what's happening. They're getting fed up. And we as people need to understand that. But no one seems to care about anything until ladies and gentlemen, it causes people to lose money or lives are lost. It's sad that we become alert and aware of our surroundings when something critical happens. That's probably the saddest part, but embracing where we are as a culture, embracing where we are as a world, and knowing that although we have to have standards, there needs to be a way that we can have interoperability. There needs to be a way that we have interoperability, but a way that's still gonna make sure that everything is still safe and secure. So I think that's a challenge for the way we do things right now. I think it is a challenge. And so I don't know if this is ever gonna hit the US like we saw what happened with the, you know, the expensive cables, people having to buy them. Now that's not becoming a difference because the European Union has made the standard, but will the US follow suit, or will they not follow suit? I think that's probably the biggest thing. And if we could understand that, I believe that we would be able to not only figure out where things are going but also have more of a sense of things. I know that sounds hard, but I want you to know that as we move into the holidays and also into 2023, I've said this before, it's not just the companies that are liable, okay? It is everyone's job to make sure we as a society okay, are effective. And that's really, really where I want to go. And I think if people could understand that, then I believe that there can be a difference. Then I believe that people could be a difference because if people understood what we really need to know, then it would make a difference in other people's lives, okay? It would make a difference in other people's lives. But that doesn't really mean anything, right? It may not mean anything to you until it matters.
John C. Morley: (43:10)
And right now, I'm going to say that's probably the most important thing you will want to know. You'll want to know that because it could affect the way you as a person will be interacting with our world.
John C. Morley: (43:45)
And I think that's pretty serious. So we know what's happened in the past. We know why things didn't work in the past. So we as people need to understand what it is that we need to do. What is our responsibility, right? What is our responsibility? And if we know what our responsibility is, we'll be much better. Hey, ladies and gentlemen, I am John C. Morley, a serial entrepreneur. It's been a privilege, a pleasure, and an honor to be with you this amazing evening. I hope you'll like, love, and support the channel. If you're looking to make up a guess on JMOR Tech Talk, be sure to visit www.jmor.com and fill out our application. Remember, we don't, unfortunately, bring everyone on the show. We're just looking for the best, the people that wanna make a difference in other people's lives. Remember, it's not a sales show. It's about education to improve your lives and everyone else in it that you care so much about. I am John C. Morley, a serial entrepreneur. I hope you guys have a very happy, healthy, safe, and wonderful Halloween this Monday. And, of course, be sure that when you're out there that you're observant because we never know if and when what's going to happen. You see something, see something. Don't keep it to yourself. Reminding you to check out all my content at www.believemeachieve.com, and I'll see you guys next month on November 4th. Can you believe it? It's the blast Friday of October, and I am gonna get to see you for the first, so we had a last now we are going to usher in the first with November 4th, and we have another great show and some good guests coming up in the next few months. Definitely stay tuned. We've so much to share with you. Again, I am John C. Morley, a serial entrepreneur and the JMOR Tech Talk Show host. Have yourself a wonderful weekend. We'll talk to you soon.
Click here to watch this video